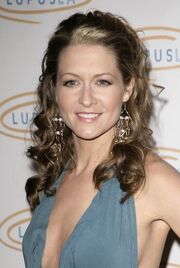 Alicia Deann "Ali" Hillis
is an American film, television and voice actress.
Filmography
Animation
Regular Show - Basketball Player (ep163), Cashier (ep163), Casting Director (ep158), Female Reporter (ep157), Game Voice (ep163), Mechanic (ep161), Mom (ep161), Orphan Woman (ep158), TV Cook (ep161), Ticket Counter Lady (ep157), Tina (ep158), Tracy (ep124), Woman (ep157)
Anime
Movies
Shorts
TV Specials
Video Games
Trailers
Other Voice Work
Trivia
Number of VA titles on this wiki: (55)
Number of Commercial/Promo/Trailer and Misc. Voice Works: (1)
Ad blocker interference detected!
Wikia is a free-to-use site that makes money from advertising. We have a modified experience for viewers using ad blockers

Wikia is not accessible if you've made further modifications. Remove the custom ad blocker rule(s) and the page will load as expected.