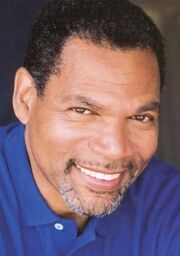 Beau M. Billingslea
(born September 1, 1953) is an American actor and voice actor, known as the voice of Jet Black in the popular anime
Cowboy Bebop
. In addition to voice acting, He appeared in many popular TV series as a prolific guest actor. Before he got into it, he played football in University of Connecticut. He is the grandfather of
Taylor Billingslea
.
He also goes by the names: Beau Billingsley, Beau Billinslea, Beau Billinstea, Beau Daniels, Bo Billingsley, Gabriel, Jack Daniels, James Brooks, James Derek, John Billingslea, John Daniels, John Hammond, and Shea Peters.
Filmography
Animation
Anime
DVD Specials
Movies
OVA
Shorts
TV Specials
Video Games
Narration
Promos
Trivia
Number of VA titles on this wiki: (107)
Number of Commercial/Promo/Trailer and Misc. Voice Works: (2)
Ad blocker interference detected!
Wikia is a free-to-use site that makes money from advertising. We have a modified experience for viewers using ad blockers

Wikia is not accessible if you've made further modifications. Remove the custom ad blocker rule(s) and the page will load as expected.