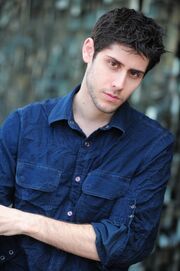 Benjamin Isaac Diskin
(born August 25, 1982 in Los Angeles County, California, United States) is an American voice actor primarily known for voicing Numbuh 1 and Numbuh 2 in
Codename: Kids Next Door
. He also voices Stitch in
Stitch!
and Sai in
Naruto: Shippūden
.
Filmography
Animation
Anime
Accel World - Ash Roller, Referee (ep13)
Aldnoah.Zero - John Humeray
Bleach - Abirama Redder, Big Mouth (ep208), Narunosuke (ep262), Pequenos (eps147-149), Rudbornn Chelute (ep195), Shinta Seko (ep172), Szayel Aporro Granz
Blood+ - Kai Miyagasuku, Boy A (ep9), Boy A (ep42), Gestas (ep20), Kato, Male Front Desk Clerk (ep8), Researcher B (ep36)
Blood Lad - Wolf
Digimon Fusion - Shoutmon, Cutemon
Durarara!!x2 Shō - Jinnai Yodogiri (ep12)
Durarara!!x2 Ten - Dollar B (ep5), Jinnai Yodogiri (ep1), Kisuke Adabashi
Glitter Force - Chemistry Teacher (ep8), Teacher (ep8)
Iron Man - Ichiro Masuda, Reporter (ep1), Special Ops Agent 1 (ep8)
Jojo's Bizarre Adventure: Battle Tendency - Joseph Joestar
K - Misaki Yata
Kekkaishi - Ayakashi (ep50), Daigo Todoroki, Mukade, Sekia
Kill la Kill - Kaneo Takarada, Takaharu Fukuroda (ep1)
Naruto - Arashi Fuma
Naruto: Shippūden - Sai, Condor (ep185), J
One Punch Man - Ground Dragon (ep2), Paradaiser (ep4), Super Custom YO649Z Mk. II (ep1)
Sailor Moon - Gurio Umino (2014 Viz Dub)
Sailor Moon Crystal - Gurio Umino, Male Student (ep2)
Sailor Moon R - Doorman (ep2; 2015 Viz Dub), Gurio Umino (2015 Viz Dub)
Stitch! - Stitch, Experiment 627 (ep41), Himamushi (ep19), Minoru, Old Man (ep32), Pleakley's Mom, Prince (ep41), Takeo, Yokai 1 (ep31), Zero
Stitch! ~ Best Friends Forever ~ - Stitch, Pleakley's Mom (ep5)
Sword Art Online II - Death Gun, Ginrō (ep2)
Tales of Zestiria the X - Attak, Rokurou Rangetsu
Tenkai Knights - Toxsa Dalton, Mr. Dalton, Notus, Orangor
The Seven Deadly Sins - Ban
Tiger & Bunny - Edward (ep8), Lionel Hawke (ep14), Prison Guard (ep6), Scientist A (ep6)
Wolverine - Madripoor Thug (ep7)
X-Men - Mutant Boy (ep2), U-Men Soldier
Movies
OVA
Mobile Suit Gundam: The Origin - Char Aznable (ep2)
TV Specials
Video Games
Web Animation
Web Anime
Trivia
Number of VA titles on this wiki: (136)
Ad blocker interference detected!
Wikia is a free-to-use site that makes money from advertising. We have a modified experience for viewers using ad blockers

Wikia is not accessible if you've made further modifications. Remove the custom ad blocker rule(s) and the page will load as expected.