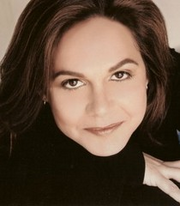 Candi Milo
(born January 9, 1966) is an American voice actress and singer.
Filmography
Animation
Anime
Ninja Scroll - Kugutsu (ep11), Little Girl (ep11), Rengoku (ep8), Takuma (ep6), Zofu as Young Boy (ep9)
Movies
¡Mucha Lucha!: The Return of El Maléfico - The Flea, Mama, The Headmistress
An American Tail: The Mystery of the Night Monster - Madame Mousey
Big Top Scooby-Doo! - Jean
Casper's Scare School - Mickey
Codename: Kids Next Door: Operation: Z.E.R.O. - Additional Voices
Cool World - Bob, Lonette
Jimmy Neutron: Boy Genius - Nick Dean, Brittany, PJ
Justice League: The Flashpoint Paradox - Persephone
Kung Fu Magoo - Gor-Illiana, McBarker, Sid's Mom
Scooby-Doo! and the Monster of Mexico - Charlene Otero/Museum Guide, Old Woman#1
Scooby-Doo! Frankencreepy - Gypsy, Lila
Scooby-Doo! Stage Fright - Barb Damon
Scooby-Doo and the Alien Invaders - Crystal
Spirited Away - Additional Voices
The Ant Bully - Nurse Ant#3
The Legend of Frosty the Snowman - Girl#2, Mrs. Tinkerton
The Snow Queen 2 - Rosa
Thru the Moebius Strip - Additional Voices
Tiny Toon Adventures: How I Spent My Vacation - Sweetie Pie
Winx Club 3D: Magical Adventure - Additional Voices (Nick Dub)
Shorts
TV Specials
Video Games
Web Animation
Trivia
Number of VA titles on this wiki: (128)
Ad blocker interference detected!
Wikia is a free-to-use site that makes money from advertising. We have a modified experience for viewers using ad blockers

Wikia is not accessible if you've made further modifications. Remove the custom ad blocker rule(s) and the page will load as expected.