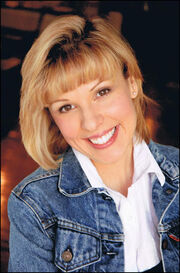 Carrie Anne Savage
(born April 8, 1980) is an American voice actress, director and script writer working for FUNimation Entertainment, OkraTron 5000 and Viz Media. In her spare time from voice acting, she volunteers work in third world countries, notably Philippines, Uganda, and Mexico.
She's also known as: Carrie A. Daniels and Carrie Daniels.
Filmography
Anime
A Certain Scientific Railgun - Erii Haru'ue
A Certain Scientific Railgun S - Erii Haru'ue
Angel Tales - Tamami the Cat
Aquarion - Rena Rune
Aquarion Evol - Crea Dolosera
Babel II: Beyond Infinity - Meilin
Baccano! - Lua Klein
Bamboo Blade - Satori Azuma, Additional Voices
Birdy the Mighty Decode:02 - Marina (ep3)
Black Blood Brothers - Sei
Black Cat - Saki (ep17)
Blassreiter - Maria (ep24)
Bottle Fairy - Girl in the Game (ep7)
Boys Be... - Nao Nitta (ep5)
Casshern Sins - Sophita (ep4), Additional Voices
Chaos;Child - Rimi Sakihita (ep1)
Chaos;HEAd - Rimi Sakihata
Claymore - Claymore B (ep11), Girl Awakened Being (ep12)
Corpse Princess - Hibiki Shijou, Hina, Additional Voices
D.Gray-Man - Mei-Ling
Daphne in the Brilliant Blue - Maia Mizuki
Darker than Black - Meena Kandaswamy
DearS - Nia
Dragonaut -The Resonance- - Laura
Durarara!! - Mika Harima
El Cazador de la Bruja - Iris Gonzalez (ep9), Nun A, Additional Voices
Ergo Proxy - Dorothy (ep3), Real Mayer
Fairy Tail - Lisanna Strauss
Fate/Zero - Shirley
Fullmetal Alchemist - Lydia (ep35)
Fullmetal Alchemist: Brotherhood - Waitress (ep64), Additional Voices
Ghost Hunt - Minnie (ep5), Wakako Yoshimi, Additional Voices
Ghost in the Shell: S.A.C. 2nd GIG - Tachikoma, Theresa (ep18)
Girls Bravo - Koyomi Hare Nanaka, Boy B (ep16)
Guilty Crown - Chika (ep16)
Gun X Sword - Priscilla
Gunslinger Girl: Il Teatrino - Aurora
Haibane-Renmei - Rakka
Heaven's Lost Property: Forte - Chaos
Hell Girl - Miki Kamikawa, Additional Voices
I My Me! Strawberry Eggs - Fuko Kuzuha, Toko Kuzuha (ep4)
Ikki Tousen - Hakufu Sonsaku
Ikki Tousen: Great Guardians - Hakufu Sonsaku
Ikki Tousen: Xtreme Xecutor - Hakufu Sonsaku, Chibi
Jyu-Oh-Sei - Stray Girl (ep11)
K - Kukuri Yukizome, Additional Voices
Kamichu! - Tama, God of VHD (ep2), Tofu-chan
Kaze no Stigma - Tiana
Kekkaishi - Aoi Shinagawa (ep24)
Kenichi: The Mightiest Disciple - Miu Fūrinji
Kodocha - Additional Voices
Ladies Versus Butlers! - Selnia Iori Flameheart
Last Exile: Fam, The Silver Wing - Millia il Velch Cutrettola Turan
Linebarrels of Iron - Risako Niiyama
Lunar Legend Tsukihime - Satsuki Yumitsuka
Maken-Ki! Battling Venus - Otohime Yamato
Marmalade Boy - Arimi Suzuki
Negima! Magister Negi Magi - Zazie Rainyday/Student No.31
Negima!? Magister Negi Magi - Girl Walla (ep3), Satomi Nakase/Student No.24, Zazie Rainyday/Student No.31
One Piece - Female Customer B (ep22), Kaya, Additional Voices
Ouran High School Host Club - Momoka Kurakano, Additional Voices
Paranoia Agent - Maromi, Taeko's Friend (ep6), Additional Voices
Peach Girl - Sumire, Additional Voices
Phantom: Requiem for the Phantom - Additional Voices
Puella Magi Madoka Magica - Junko Kaname
R.O.D the TV - Nancy Makuhari, Police Woman (ep7)
Ragnarok The Animation - Yufa
Romeo x Juliet - Hermione
Rumbling Hearts - Haruka Suzumiya
S-CRY-ed - Kanami Yuta, Military Woman B (ep5)
Saiyuki Reload: Gunlock - Rin
Samurai 7 - Honoka
Sasami: Magical Girls Club - Itoki
Save Me! Lollipop - Young Nanase (ep7), Sixteen
School Rumble - Karen Ichijō
School Rumble: 2nd Semester - Karen Ichijō, Mikoto's Mother (ep11)
Sekirei - Mitsuha
Sgt. Frog - Angel Mois
Shakugan no Shana III (Final) - Chiara Toscana
Shin-chan - Penny Milfer, Additional Voices
Shuffle! - Kaede Fuyou
SoltyRei - Solty Revant, Celica's Mother (ep12)
Soul Eater - Rachel
Stellvia - Shima Katase
Str.A.In: Strategic Armored Infantry - Jessie Iges
Suzuka - Megumi Matsumoto
Texhnolyze - Ran
The Melody of Oblivion - Sayoko Tsukinomori, Girl (ep23)
The Tower of Druaga: The Aegis of Uruk - Succubus, Additional Voices
The Tower of Druaga: The Sword of Uruk - Succubus, Additional Voices
Trinity Blood - Astharosme Asran, Young Caterina Sforza (ep5)
Tsubasa: RESERVoir CHRoNiCLE - Mokona, Child (ep40)
Ultra Maniac - Nina Sakura
Vampire Knight - Rima Toya, Day Class Girls, Nadeshiko Shindō
Vampire Knight Guilty - Rima Toya, Day Class Girls, Nadeshiko Shindō (ep10)
Witchblade - Rihoko Amaha
Xenosaga: The Animation - Nephilim
xxxHOLiC - Mokona
Anime Shorts
Movies
OVA
Video Games
Trivia
Number of VA titles on this wiki: (161)
She's been diagnosed with muscular dystrophy which interfered with her work as a waitress.
Ad blocker interference detected!
Wikia is a free-to-use site that makes money from advertising. We have a modified experience for viewers using ad blockers

Wikia is not accessible if you've made further modifications. Remove the custom ad blocker rule(s) and the page will load as expected.