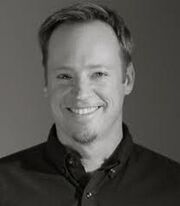 Christopher "Chris" Edgerly
(born August 6, 1969 in Silver Spring, Maryland) is an American voice actor. Edgerly was born in Silver Spring, Maryland, he moved to Savannah, Georgia at the age of two with his mother, and two brothers. He graduated from the University of Georgia with a degree in journalism.
He's known for voicing Yuan, Magnius and Kvar in Tales of Symphonia, Cid Highwind in Final Fantasy VII: Advent Children as well as Kingdom Hearts II, Lineage II and Dirge of Cerberus: Final Fantasy VII, Berlioz/Supplice in Armored Core 4, The Flash in Justice League Heroes, Sullivan in Resonance of Fate, Ken Ogawa in Ninja Blade, Gambit in X-Men Origins: Wolverine, Francis Littel in Kick Buttowski: Suburban Daredevil and Hidan in Naruto: Shippūden.
Edgerly has also worked at a mall information desk and as a stand-up comedian, touring the country for ten years. At Disney theme parks, Chris Edgerly voices Scuttle on The Little Mermaid: Ariel's Undersea Adventure and Timothy Q. Mouse on the Dumbo the Flying Elephant ride.
Filmography
Animation
Anime
Movies
Shorts
TV Specials
Video Games
Trivia
Number of VA titles on this wiki: (133)
Ad blocker interference detected!
Wikia is a free-to-use site that makes money from advertising. We have a modified experience for viewers using ad blockers

Wikia is not accessible if you've made further modifications. Remove the custom ad blocker rule(s) and the page will load as expected.