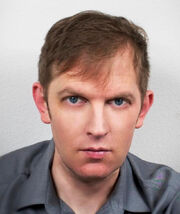 Christopher David Patton
is an American voice actor working for ADV Films/Sentai Filmworks, Seraphim Digital, and FUNimation Entertainment.
He is known for voicing Shin Kazama in Area 88, Tatsuhiro Sato in Welcome to the NHK, and Sousuke Sagara in Full Metal Panic!.
Animation Voice Work
Animation - Dubbing
Michel - Delivery Boy (ep17), Jafar (ep11), Jimmy (ep18)
Movies
Anime Voice Work
Anime - Dubbing
Air Gear - Itsuki "Ikki" Minami
Akame ga Kill! - Run
All Purpose Cultural Cat Girl Nuku Nuku - Ikenami
Angelic Layer - Ohjiro Mihara
Another - Naoya Teshigawara
Aoharu x Machinegun - Toru Yukimura
Aquarian Age: Sign for Evolution - Kyota Kamikurata
Area 88 - Shin Kazama
Azumanga Daioh - Male Student 1 (ep1), Starter (ep6), Additional Voices
BECK: Mongolian Chop Squad - Manabu, Additional Voices
Baccano! - Graham Spector
Best Student Council - Shimon Kurisu (ep7), Urato Oume (ep20), Additional Voices
Birdy the Mighty Decode:02 - Valic, Additional Voices
Black Bullet - Rentaro Satomi
Black Cat - Creed Diskenth
Bodacious Space Pirates - Kane McDougall, Shane McDougall
Burst Angel - Eiji (ep18)
Campione! - Perseus
Case Closed - Alex Carr, Dexter Reynolds (ep53)
Casshern Sins - Root (ep2)
Chance Pop Session - Shiro Sugino, Chance (ep8), Keyboard Player (ep3), Stage Manager (ep1), Stagehand (ep8), Thief (ep2), Youth 2 (ep3)
Corpse Princess - Manager (ep4)
Cyberteam in Akihabara - Takashi Ryūgasaki/Black Prince, Additional Voices
Demon King Daimao - Akuto Sai
D.Gray-Man - Lavi (eps 27-28), Devon, Additional Voices
D.N.Angel - Elliot
DRAMAtical Murder - Ryuho
Diabolik Lovers - Ayato Sakamaki
Diabolik Lovers II : More,Blood - Ayato Sakamaki
Diamond Daydreams - Karin's Brother
Dimension W - Haruka Seameyer
Dragon Ball Z Kai - Additional Voices
Dream Eater Merry - Takateru Akiyanagi
Drifters - Abe no Seimei (Haruakira)
ef - a tale of melodies - Kyosuke Tsutsumi
ef - a tale of memories - Kyosuke Tsutsumi
Elfen Lied - Policeman B (ep5), SWAT A (ep10), Tomoo, Young Man (ep9), Additional Voices
Excel Saga - Key (ep21), Kurata, Mutant (ep23), Younger Brother (ep12), Additional Voices
Full Metal Panic! - Sousuke Sagara
Full Metal Panic! The Second Raid - Sousuke Sagara
Full Metal Panic? Fumoffu - Sousuke Sagara
Fullmetal Alchemist - Greed
Fullmetal Alchemist: Brotherhood - Greed
Gantz - Joichiro Nishi, Mika's Stalker (ep22)
Gasaraki - Yushiro Gowa
Gatchaman Crowds insight - Gel Sadra
Generator Gawl - Customer (ep1), Student (ep3)
Ghost Stories - Hajime Aoyama
Gravion - Eiji Shigure
Gravion Zwei - Eiji Shigure
Gunslinger Girl: Il Teatrino - Additional Voices
Guyver: The Bioboosted Armor - Sho Fukamachi/Guyver I
Hakuōki: Record of the Jade Blood - Hyoe Masaki (ep7), Matsumae Soldiers (ep9), Takigawa (ep10), Additional Voices
Hamatora: The Animation - Moral
High School of the Dead - Additional Voices
Initial D: Fourth Stage - Tohru Suetsugu
Innocent Venus - Joe Katsuragi
Inu X Boku: Secret Service - Soushi Miketsukami
Kaleido Star - Ben Robbins (ep33), Dio, Johann (ep34), Screen Director
Kanon - Yuichi Aizawa
Kiddy Grade - Chevalier D'Autriche (Teen; ep22)
Kids on the Slope - Kaoru Nishimi
Kino's Journey - The Traveler (ep4)
Kodocha - Naozumi Kamura
Linebarrels of Iron - Additional Voices
Log Horizon - Aizel, William Massachusetts (ep9)
Log Horizon 2 - William Massachusetts
Madlax - Badgis
Martian Successor Nadesico - Saburota Takasugi, Additional Voices
Mezzo DSA - Kazuto, Additional Voices
Monthly Girls' Nozaki-kun - Suzuki
Moonlight Mile - Diet Member (ep10), Director (ep6), Dr. Saneatsu (ep2), Government Military Commander (ep4), Nagatani, Additional Voices
My Bride is a Mermaid - Yoshiuo Minamoto
Mysterious Girlfriend X - Additional Voices
Nabari no Ou - Kato
Needless - Head Technician (ep9), Kafka (ep1), Minister/Yuma, Trick (ep10)
Negima! Magister Negi Magi - Fate Averruncus
Noir - Chu
One Piece - Mr. 9, Rapanui Pasqua
Outbreak Company - Galius En Cordbal
Pani Poni Dash! - Tsurugi Inugami, Beep (ep4), Bus-jacker (ep15), Food Ranger (ep15)
Papuwa - Gunma
Parasyte -the maxim- - Haruki Tachikawa (ep9), Newscaster (ep1), Yakuza (ep11)
Peacemaker Kurogane - Susumu Yamazaki, Seiga-no-Chujo, Additional Voices
Phi-Brain: Puzzle of God - Gammon Sakanoue
Prince of Stride: Alternative - Shiki Dozono (ep6)
Princess Nine - Seishiro Natsume
Re: Hamatora - Moral
S・A: Special・A - Ryu Tsuji, Additional Voices
Sgt. Frog - Viper (ep13), Additional Voices
Shadow Skill - Kai Shink
Shin-chan - Dr. Enema (ep2)
SoltyRei - Yuto K. Steel
Sorcerous Stabber Orphen: Revenge - Flamesoul, Walter, Yellow Robber (ep7), Additional Voices
Soul Eater - Asura
Strike Witches - Additional Voices
Tactics - Haruka, Additional Voices
The Book of Bantorra - Heaven (ep23), Ruruta
The Tower of Druaga: The Aegis of Uruk - Kum (ep12)
The Wallflower - Ranmaru Morii
The World God Only Knows - Keima Katsuragi
Those Who Hunt Elves II - Barfly (ep2), Goblin (ep11), Grunt (ep8), Kerames (ep4), Salary Man Santa (ep9), Servant (ep10), Villager (ep7), Additional Voices
Xenosaga: The Animation - Tony, Additional Voices
Movies - Dubbing
OVA - Dubbing
Video Games
Video Games - Dubbing
Trivia
Number of VA titles on this wiki: (135)
He temporarily retired from FUNimation in 2011 and returned in 2016.
Ad blocker interference detected!
Wikia is a free-to-use site that makes money from advertising. We have a modified experience for viewers using ad blockers

Wikia is not accessible if you've made further modifications. Remove the custom ad blocker rule(s) and the page will load as expected.