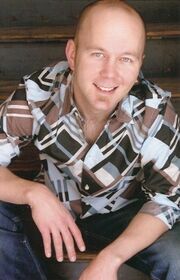 Christopher Robin Sabat
(born April 22, 1973 in Washington, D.C.) is an American voice actor, ADR director and line producer for FUNimation Entertainment.
He's known for voicing Alex Louis Armstrong in Fullmetal Alchemist, Giroro in Sgt. Frog, Kazuma Kuwabara in YuYu Hakusho: Ghost Files, Kikuchiyo in Samurai 7, Roronoa Zoro in One Piece and Vegeta, Piccolo and Yamcha in the Dragon Ball franchise, He is often casted as tough guy characters due to his deep and rough voice.
He also goes under the name Chris R. Sabat, Christopher R. Sabat and Chris Sabat.
Filmography
Anime
A Certain Magical Index - Tōya Kamijō
A Certain Magical Index II - Tōya Kamijō
Aesthetica of a Rogue Hero - Kaito Kubota
Akiba's Trip: The Animation - Hardman (ep2)
All Out!! - Shingo Komori
Aquarion - Narrator, Additional Voices
Assassination Classroom - Grip
Attack on Titan - Kitz Woermann
BECK: Mongolian Chop Squad - Preview Narrator, Additional Voices
Baka and Test: Summon the Beasts 2 - Mr. Ooshima (ep7)
Baki the Grappler - Shinogi Kousho, Toba
Bamboo Blade - Kenzaburō Ishibashi, Dorchil
Barakamon - Kazuyuki Sakamoto
Basilisk - Kasumi Gyobu
Ben-To - Aburashin (ep1)
Birdy the Mighty: Decode - Skeletso
Birdy the Mighty Decode:02 - Skeletso
Black Blood Brothers - Cain Warlock
Black Butler - Azzurro Vanel (ep2)
Black Butler: Book of Circus - Chlaus (ep8), Jumbo
Black Cat - Zagine Axeloake
Blassreiter - Gerd Frentzen
Blood Blockade Battlefront - Gregor Maximus (ep7), Additional Voices
Blue Gender - Keith Bean, Additional Voices
Brothers Conflict - Ukyo Asahina
Burst Angel - Azuma Iriki
Case Closed - Craig Newberry, Detective Shaw, Johnny Hijikata, Otto, Additional Voices
Casshern Sins - Bolton (ep9), Additional Voices
Chain Chronicle – The Light of Haecceitas – - Vorg (ep3)
Chaos Dragon - Kankoretsu
Chrome Shelled Regios - Additional Voices
Claymore - Galk
Corpse Princess - Hazama
Cøde:Breaker - Rogue Supernatural (ep10), Additional Voices
D-Frag! - Father
D.Gray-Man - General Cross Marian, Tapp Dopp, Verne (ep26)
D.Gray-Man: Hallow - General Cross Marian
Daimidaler: Prince V.S. Penguin Empire - Adelie (ep9)
Dance in the Vampire Bund - Wolfgang Regendorf
Danganronpa: The Animation - Mondo Owada
Darker than Black - Yusuke Saito, Clerk 2 (ep3)
Darker than Black: Gemini of the Meteor - Yusuke Saito
Date A Live - Kawagoe
Date A Live II - Kawagoe
Deadman Wonderland - Endou
Desert Punk - Additional Voices
Dimension W - Kyoma Mabuchi
Divine Gate - Palomides
Dragon Ball - Kami, King Piccolo, Piccolo Junior, Yamcha, Buyon (ep40), Colonel Silver, Construction Worker (ep18), Grandpa Gohan, Inoshikacho, King Furry, Korin, Mr. Popo, Nejishki, Nikochan's Servant, Shenron, Staff Officer Black, Turtle, Additional Voices
Dragon Ball GT - Vegeta, Baby Popo (ep37), Black Smoke Dragon (ep48), Dragon (ep59), Eternal Dragon, Game Master (ep29), Gogeta, Gold Dragon (ep48), Korin (ep40), Mr. Popo, Omega Shenron, Ox-King (ep40), Piccolo, Porunga (ep40), Shenron, Turtle (ep64), Vegeta Jr. (ep64), Yamcha, Additional Voices
Dragon Ball Super - Piccolo, Vegeta, Shenron, Yamcha
Dragon Ball Z - Piccolo, Vegeta, Yamcha, Baby Dinosaur (ep206), Bubbles, Burter, Dinosaur (ep206), Dragon (ep192), Friar B (ep242), Goz (ep95), Grandpa Gohan, Guru, Jeice, Kami, King Piccolo (ep137), King Vegeta, Korin, Lizard (ep206), Mez (ep95), Mokki, Moori, Mr. Popo, News Anchor (ep157), Newscaster (ep245), Ox-King (ep214-291), Pilot (ep247), Porunga, Recoome, Shenron, Turtle, Vegito, Zarbon
Dragon Ball Z Kai - Piccolo, Vegeta, Yamcha, Bubbles, Grandpa Gohan, Kami, Korin, Porunga, Recoome, Saiyan Ape (ep2), Shenron
Drifters - Gilles de Rais
Eden of the East - Yusei Kondou, Additional Voices
ēlDLIVE - Belalugo
Eureka Seven Ao - Secretary of State (ep8)
Fairy Tail - Elfman Strauss, Additional Voices
Free! - Goro Sasabe
Free! Eternal Summer - Goro Sasabe
Fruits Basket - Ayame Sohma
Fullmetal Alchemist - Alex Louis Armstrong, Phillip Gargantos Armstrong (ep37)
Fullmetal Alchemist: Brotherhood - Alex Louis Armstrong, Phillip Gargantos Armstrong (ep45)
Ga-Rei-Zero - Kudō Kusuno
Gangsta. - Gaston Brown
Garo: The Animation - Camillo (ep23), Additional Voices
Glass Fleet - Heizak, Potato (ep22)
Gunslinger Girl - Boss (eps1-2), Pietro Fermi
Haganai NEXT - Koyomi Fujioka (ep2)
Heaven's Lost Property - Additional Voices
Heaven's Lost Property: Forte - Judas
Hell Girl - Director (ep20), Goro Suetsugu (ep22)
Hero Tales - Additional Voices
Heroic Age - Karkinos Rucan, Additional Voices
High School DxD - Sacred Gear/Ddraig
High School DxD: BorN - Ddraig
High School DxD: New - Ddraig
Initial D: Fourth Stage - Kyouichi Sudo
Initial D: Second Stage - Kyoichi Sudo
Izetta: The Last Witch - Baer (ep3)
Joker Game - Additional Voices
Jormungand - Maestro
Jyu-Oh-Sei - Yuuki (ep6)
Kaze no Stigma - Ryuya Kazamaki
Kenichi: The Mightiest Disciple - Shio Sakaki
Kiddy Grade - Chevalier D'Autriche, Dextera (ep12), Secretary (ep11), Additional Voices
Kodocha - Kurosaki (ep30), Naru Naru, Additional Voices
Laughing Under the Clouds - Seiichirō Takamine
Level E - Ranzou Edogawa
Linebarrels of Iron - Captain Shinobu Igarashi
Lupin the Third: The Woman Called Fujiko Mine - Daisuke Jigen
Maken-Ki! Battling Venus - Additional Voices
Miss Kobayashi's Dragon Maid - Kobayashi's Boss (ep5)
My Bride is a Mermaid - Masa
My Hero Academia - All Might
Nabari no Ou - Kannuki
Negima! Magister Negi Magi - Demon Leader (ep26), Devil
Negima!? Magister Negi Magi - Narrator
Ninja Slayer from Animation - Fujikido Kenji/Ninja Slayer
Nobunagun - Robert Capa/Annus, Additional Voices
Oh! Edo Rocket - Tenbe Mimasaka
Ōkami-san and her Seven Companions - Kumada
One Piece - Roronoa Zoro, Jigoro, Minatomo-san (ep51)
One Punch Man - Vaccine Man (ep1)
Ouran High School Host Club - Ritsu Kasanoda
Panty & Stocking with Garterbelt - Garterbelt
Phantom: Requiem for the Phantom - Randy
Psycho-Pass 2 - Sakuya Togane
Rage of Bahamut: Genesis - Martinet
Ragnarok The Animation - Holgren (ep13)
Romeo x Juliet - Cerimon
Rosario + Vampire - Kotsubo Okuto
Rosario + Vampire Capu2 - Kotsubo Okuto (ep2)
Samurai 7 - Kikuchiyo
Sands of Destruction - Yappy
Sasami: Magical Girls Club - Conductor, Additional Voices
School Rumble - Announcer, Additional Voices
School Rumble: 2nd Semester - Announcer (ep10), Deviltusk (ep24), Editor Yoshimoto (ep21), Emcee (ep19), Mikoto's Father
Sengoku Basara: Samurai Kings 2 - Toyotomi Hideyoshi
Seraph of the End - Mel Stefano (ep17), Tenri Hiragi (ep5)
Sgt. Frog - Giroro
Shakugan no Shana III (Final) - Behemoth
Shiki - Hasegawa
Shimoneta: A Boring World Where the Concept of Dirty Jokes Doesn't Exist - Base Black (ep12), Narrator
Shin-chan - Mister K, Narrator, Ring Announcer (ep39), Yonro, Additional Voices
Show By Rock!! - Rom
Show By Rock!! Season 2 - Rom
Shuffle! - Additional Voices
Snow White with the Red Hair - Lord Haruka
SoltyRei - Roy Revant
Soul Eater - Eibon
Space☆Dandy - Isaac (ep17), Additional Voices
Spice and Wolf - Marlheit
Spiral - Kiyotaka Narumi
Steins;Gate - Yugo "Braun" Tennoji
Str.A.In: Strategic Armored Infantry - Additional Voices
Strike Witches - Radio Announcer (ep6), Additional Voices
Strike Witches 2 - Additional Voices
The Devil Is a Part-Timer! - Albert Ende
The Future Diary - Uchio Gasai
The Heroic Legend of Arslan - King Andragoras III
The Heroic Legend of Arslan: Dust Storm Dance - King Andragoras III
The Legend of the Legendary Heroes - Rahel Miller, Additional Voices
The Rolling Girls - Akogi, Additional Voices
The Tower of Druaga: The Aegis of Uruk - Black Knight (ep1), Door (ep5)
Tokyo Ghoul - Jason/Yamori
Tokyo Ghoul √A - Jason/Yamori (ep7)
Tokyo Ravens - Kakugyouki
Toriko - Uumen Umeda
Touken Ranbu: Hanamaru - Nagasone Kotetsu
Trinity Blood - Father Tres Iques, Janissary B (ep15)
Tsubasa: RESERVoir CHRoNiCLE - Kurogane, Kurogane's Father
We, Without Wings - Under the Innocent Sky. - Martinez
Yona of the Dawn - Hak
Yuri!!! on Ice - Christophe Giacometti
YuYu Hakusho: Ghost Files - Kazuma Kuwabara, Detective (ep74), Gama, Raizen, Additional Voices
Anime Shorts
Anime Specials
Live Action Movies - Dubbing
Movies
OVA
TV Specials
Video Games
Web Animation
Web Anime
Trivia
Number of VA titles on this wiki: (287)
Ad blocker interference detected!
Wikia is a free-to-use site that makes money from advertising. We have a modified experience for viewers using ad blockers

Wikia is not accessible if you've made further modifications. Remove the custom ad blocker rule(s) and the page will load as expected.