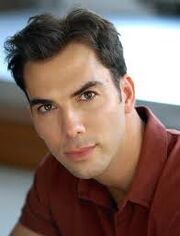 David Matranga
(born April 20, 1979 in Houston, Texas) is an American voice actor who works in ADV films and Seraphim Digital titles.
He's also known as: David Gorgritz.
Filmography
Anime
AKB0048 Next Stage - Chieri's Father, Announcer, Additional Voices
Akame ga Kill! - Wave
All Purpose Cultural Cat Girl Nuku Nuku - Store Clerk (ep5), Additional Voices
Amagi Brilliant Park - Genjuro, Additional Voices
Angel Beats! - Hideki Hinata
Another - Mr. Kubodera, Additional Voices
Appleseed XIII - Briareos
Attack on Titan - Bertholdt Hoover, Additional Voices
Attack on Titan: Junior High - Bertholdt Hoover
Barakamon - Additional Voices
Blood Blockade Battlefront - Additional Voices
Brothers Conflict - Subaru Asahina
Btooom! - Masahito Date
Chance Pop Session - Kaito Kosaka, Bass Player, Keiji (ep11), Music City Award Announcer (ep13), Publicist A (ep7), Staffer B (ep12), Youth 1 (ep13)
Clannad - Tomoya Okazaki
Clannad: After Story - Tomoya Okazaki, Rival Gang
Cøde:Breaker - Hitomi
DRAMAtical Murder - Koujaku
Diabolik Lovers - Richter
Dream Eater Merry - Pharos Heracles
ef - a tale of melodies - Yu Himura
ef - a tale of memories - Yu Himura
Elfen Lied - Male Staff (ep11), Ohmori (ep10), Police Officer B (ep9)
Endride - Additional Voices
Fairy Tail - Additional Voices
From the New World - Shisei Kaburagi (ep8), Additional Voices
Garo: The Crimson Moon - Aristocrat (ep14), Additional Voices
Gatchaman Crowds - Additional Voices
Gatchaman Crowds insight - Prime Minister Sugayama
Generator Gawl - Lab Tech#1 (ep8), Security Guard#1 (ep8), Spider Generator (ep7)
Ghost Stories - Racist Cabbie (ep14)
Girls und Panzer - Shinzaburou, Additional Voices
Gosick - Young Albert de Blois (ep15)
Hakkenden: Eight Dogs of the East - Rio Satomi
Hakuōki: Dawn of the Shinsengumi - Sannan-san
Hakuōki: Demon of the Fleeting Blossom - Keisuke Sannan
Hakuōki: Record of the Jade Blood - Keisuke Sannan
HaNaYaMaTa - Tami's Father (ep4)
Heaven's Memo Pad - Hiro
High School of the Dead - Hisashi Igo, Additional Voices
Hiiro no Kakera: The Tamayori Princess Saga - Yuichi Komura
Hiiro no Kakera: The Tamayori Princess Saga: Second Chapter - Yuichi Komura
Horizon in the Middle of Nowhere II - Innocentuis, Nenji, Noriki
Inu X Boku: Secret Service - Kagerou Shoukiin
Joker Game - Odagiri
Kamisama Dolls - Aki Kuga
Karneval - Akari
Kids on the Slope - Junichi Katsuragi
Kokoro Connect - Ryuzen Goto
Legends of the Dark King: A Fist of the North Star Story - Souga
Log Horizon - Roderic
Log Horizon 2 - Roderick
Love, Chunibyo & Other Delusions - Additional Voices
Magical Warfare - Kazuma Ryuusenji
Maid Sama! - Takumi Usui
Medaka Box - Hakama Shiranui (ep11), Male Student (ep9), Yakushima
Medaka Box: Abnormal - Hakama Shiranui, Yakushima (ep1)
My Hero Academia - Shōto Todoroki
My Love Story!! - Koki Ichinose
Needless - Adam Arklight, Village Leader (ep10)
Ninja Slayer from Animation - Daigo (ep19)
Nobunaga the Fool - Cesare Borgia
Nyan Koi! - Haruhiko Endou
One Piece - Puzzle, Shu (ep309), Additional Voices
Parasyte -the maxim- - Mita
Psycho-Pass - Koichi Ashikaga (ep8)
Red Data Girl - Yukimasa Sagara
S・A: Special・A - Aoi Ogata, Nakamura, Sakura's Dad, Additional Voices
Say "I love you." - Business Man (ep1), Daichi Kurosawa, Additional Voices
Sorcerous Stabber Orphen - Orphen
Sorcerous Stabber Orphen: Revenge - Orphen, Doctor (ep6)
Steel Angel Kurumi - Kamihito
The Ambition of Oda Nobuna - Imai Sokyu
The Book of Bantorra - Mokkania Fluru, Additional Voices
The Future Diary - Teacher (ep18)
The Rolling Girls - Shuten
Tokyo ESP - Toru Kanze
Tsuritama - Duckmen, Home Room Teacher, Additional Voices
WataMote - Tomoki Kuroki
Yona of the Dawn - Additional Voices
Movies
OVA
Web Anime
Trivia
Number of VA titles on this wiki: (105)
Links
Ad blocker interference detected!
Wikia is a free-to-use site that makes money from advertising. We have a modified experience for viewers using ad blockers

Wikia is not accessible if you've made further modifications. Remove the custom ad blocker rule(s) and the page will load as expected.