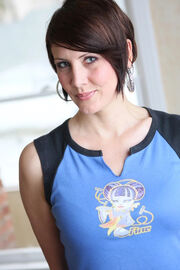 Erin Fitzgerald (born September 21, 1972) is a Canadian voice actress. She was born in Victoria, British Columbia, Canada and is bilingual, speaking both English and French fluently.
Most famous for her roles of May Kanker and Nazz in Cartoon Network's longest running series Ed, Edd n Eddy, Fitzgerald can currently be heard on the Emmy Nominated Monster High series by Mattel as Abbey Bominable, Spectra Vondergeist, and C.A. Cupid as well as Lea and Shani in Mattel's Polly Pocket series. She also has a role on the animated series Wild Grinders, created by Rob Dyrdek for Nicktoons, on which she plays Stubford, Denise and Patti. She was also the announcer on Nickelodeon's Emmy Nominated series Brainsurge for the first two seasons.
Fitzgerald also works with the comedy troupe "Fake Radio", performing 1940s radio plays and shows live on stage in authentic costumes.
Filmography
Animation
Anime
Anime Specials
Live Action Movies - Dubbing
Movies
OVA
TV Series
TV Specials
Video Games
Web Animation
Motion Comics
Trivia
Number of VA titles on this wiki: (143)
External Links
Ad blocker interference detected!
Wikia is a free-to-use site that makes money from advertising. We have a modified experience for viewers using ad blockers

Wikia is not accessible if you've made further modifications. Remove the custom ad blocker rule(s) and the page will load as expected.