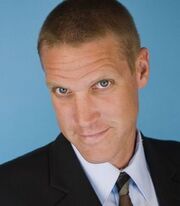 Ezra E. Weisz
(born January 1, 1971) is an American voice actor. He's also known as
Ethan Murray
.
Filmography
Animation
Anime
A Little Snow Fairy Sugar - Basil, Turmeric
Aldnoah.Zero - Sōma Yagarai
Arc the Lad - Clive
Blade of the Immortal - Anotsu
BlazBlue: Alter Memory - Nago, Additional Voices
Bleach - Yylfordt Granz, Storekeeper (ep128)
Bobobo-bo Bo-bobo - Additional Voices
Bottle Fairy - Additional Voices
Burn-Up Scramble - Additional Voices
Code Geass: Lelouch of the Rebellion - Mao, Additional Voices
Di Gi Charat - Kimura Takuro
Durarara!! - Client (ep7), Witness#2 (ep4)
Gad Guard - Additional Voices
Gankutsuou: The Count of Monte Cristo - Franz D'Epinay
Ghost in the Shell: Stand Alone Complex - Doctor (ep21), GuruGuru (ep9)
Green Green - Hikaru Ichiban-Boshi
Heat Guy J - Additional Voices
Hunter × Hunter - Wing
Kanokon: The Girl Who Cried Fox - Tayura Minamoto
Last Exile - Additional Voices
Magi: The Kingdom of Magic - Ren Komei
Naruto: Shippūden - Nurari
Otogi Zoshi - Emperor (ep1)
Outlaw Star - Fred Luo (ep6)
Planetes - Gennojo, Additional Voices
Rave Master - Assistant Director, Schneider
Rurouni Kenshin - Lieutenant Meldars, Passenger (ep38), Seiku Arai, Shakku Arai (ep40), Shobu Santo, Shoji Santo (ep74), Traveler (ep39)
S-CRY-ed - Grow
Saiyuki Reload - Additional Voices
Saiyuki Reload: Gunlock - Demon (ep2), Demon (ep4), Taoist (ep1), Villager (ep4)
Samurai Champloo - Additional Voices
Tenjho Tenge - Fu Chen
The Big O - Announcer, Phil (ep19)
Ultra Maniac - Host Father, Sebastian
Vampire Knight - Kaname Kuran
Vampire Knight Guilty - Kaname Kuran
Wild Arms: Twilight Venom - Judecca (ep15), Yusis (ep4), Additional Voices
X - Yūto Kigai
Movies
OVA
TV Series
Video Games
Trivia
Number of VA titles on this wiki: (79)
Ad blocker interference detected!
Wikia is a free-to-use site that makes money from advertising. We have a modified experience for viewers using ad blockers

Wikia is not accessible if you've made further modifications. Remove the custom ad blocker rule(s) and the page will load as expected.