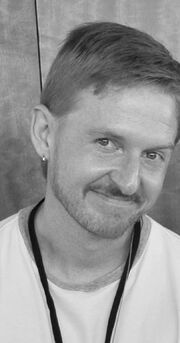 Jerry Dean Jewell
(born July 30, 1976 in McAlester, Oklahoma) is an American actor, singer and voice actor for FUNimation Entertainment and OkraTron 5000.
He is known for his roles as Jimmy Kudo in Case Closed and Kyo Sohma in Fruits Basket.
Filmography
Anime
A Certain Magical Index II - Amakusa-Style Boy (ep3), Anti-Skill (ep9), Kouyagi (ep4), Male Student (ep9), Silhouette, Ushibuka (ep4), Additional Voices
A Certain Scientific Railgun - Kikuhiko Kōjun, Additional Voices
A Certain Scientific Railgun S - Male Student A (ep4), Additional Voices
ACCA: 13-Territory Inspection Dept. - Lilium's Older Brother (ep4)
Aesthetica of a Rogue Hero - Kyoya Hikami
Assassination Classroom - Yuma Isogai
Assassination Classroom: Second Season - Yuma Isogai
Attack on Titan - Moblit Berner, Additional Voices
Attack on Titan: Junior High - Moblit Berner
BECK: Mongolian Chop Squad - Yoshiyuki Taira
Baccano! - Claire Stanfield/Rail Tracer
Baki the Grappler - Kikuchi (ep48)
Bamboo Blade - Schoolboy A (ep5)
Ben-To - Additional Voices
Big Windup! - Ohkawa
Birdy the Mighty: Decode - Lailalo (ep13)
Birdy the Mighty Decode:02 - Lailalo
Black Blood Brothers - Zelman Clock
Black Butler - Lau, Additional Voices
Black Butler: Book of Circus - Lau (ep1)
Black Butler II - Lau
Black Cat - Lin Shao Lee, Glin
Blood Blockade Battlefront - Additional Voices
Blood-C - Yamada (ep4), Additional Voices
Blue Gender - Tony Frost
Brothers Conflict - Louis Asahina
C - Control: The Money of Soul and Possibility - Additional Voices
Case Closed - Jimmy Kudo
Casshern Sins - Dio
Chrome Shelled Regios - Kalian Loss
Claymore - Lig, Pario, Stranger (ep5), Additional Voices
Corpse Princess - Hizuchi
Cøde:Breaker - Yuki Tenpoin
D-Frag! - Narrator, Shikiba (ep7), Additional Voices
D.Gray-Man - Goz, Klack, Additional Voices
Dance in the Vampire Bund - Jean Marais Dermaille
Danganronpa 3: The End of Hope's Peak High School - Despair Arc - Student Council Member (ep7)
Darker than Black - Eelis Kastinen
Deadman Wonderland - Keigo Ugachi (ep13)
Dimension W - Keebo (ep4)
Divine Gate - Johann
Dragon Ball - Nam, Additional Voices
Dragon Ball GT - Doma, Eis Shenron, Additional Voices
Dragon Ball Z - Nam (ep285)
Dragonaut -The Resonance- - Asim Jamar
Drifters - Shara
Eden of the East - Ryo Yuki
Fairy Tail - Lyon Vastia, Additional Voices
Fractale - Doctor (ep3), Additional Voices
Free! Eternal Summer - Momotaro Mikoshiba
Freezing: Vibration - Male Aide (ep3), Additional Voices
Fruits Basket - Kyo Sohma
Fullmetal Alchemist - Barry the Chopper
Fullmetal Alchemist: Brotherhood - Barry the Chopper
Gangsta. - Gawain
Garo: The Crimson Moon - Additional Voices
Gonna be the Twin-Tail!! - News Anchor (ep3), Snake Guildy
Good Luck Girl! - Utsumi
Gunslinger Girl: Il Teatrino - Pinocchio
Haganai - Kodaka Hasegawa
Haganai NEXT - Kodaka Hasegawa
The Heroic Legend of Arslan - Gieve
High School DxD: BorN - Ajuka Beelzebub
Initial D: Fourth Stage - Additional Voices
Kamisama Kiss - Additional Voices
Karneval - Azana
Kaze no Stigma - Shin (ep21), Additional Voices
Kenichi: The Mightiest Disciple - Ryūto "Odin" Asamiya, Additional Voices
Kiddy Grade - Max (ep2), Additional Voices
Kodocha - Akito Hayama
Last Exile: Fam, The Silver Wing - Crèche
Laughing Under the Clouds - Additional Voices
The Legend of the Legendary Heroes - Lucile Eris
Linebarrels of Iron - Makoto Doumyoji, Additional Voices
Lord Marksman and Vanadis - Additional Voices
Maria the Virgin Witch - Priapos
Michiko & Hatchin - Vasily Nabokov
My Hero Academia - Nedzu
Ōkami-san and her Seven Companions - Saburo Nekomiya
One Piece - Hildon, Merry, Minchey, Additional Voices
Ouran High School Host Club - Arai
Panty & Stocking with Garterbelt - Cop (ep8A), Additional Voices
Peach Girl - Hyoma
Phantom: Requiem for the Phantom - Additional Voices
Ping Pong: The Animation - Po (ep3)
Prince of Stride: Alternative - Yu Kamoda (ep4)
Rosario + Vampire - The Bat
Rosario + Vampire Capu2 - The Bat, Kotaro Ijuin (ep10)
Samurai 7 - Hyogo
Sands of Destruction - Jade (ep4)
School Rumble - Additional Voices
School Rumble: 2nd Semester - Nihil, Additional Voices
Sekirei - Izumi Higa
Sekirei: Pure Engagement - Izumi Higa
Senran Kagura - Boy Student#1 (ep1), Additional Voices
Seraph of the End - Shinya Hiragi
Sgt. Frog - Viper
Shakugan no Shana III (Final) - Barma (ep18), Gizo, Additional Voices
Shiki - Natsuno Yuki
Shin-chan - Happiness Bunny, Additional Voices
Show By Rock!! - Aion
Show By Rock!! Season 2 - Aion
Shuffle! - Rin Tsuchimi
Soul Eater - Additional Voices
Space☆Dandy - Dumdee (ep22)
Spiral - Additional Voices
Strike Witches - Burg (ep8)
Suzuka - Sasaki (ep22)
Tokyo ESP - Additional Voices
Tokyo Ravens - Shaver
Toriko - Bogie Woods
Touken Ranbu: Hanamaru - Uguisumaru
Trickster - Hisashi Ōtomo
Trinity Blood - Count of Antwerp/Memling (ep6)
Tsubasa: RESERVoir CHRoNiCLE - Sorata Arisugawa
The Tower of Druaga: The Aegis of Uruk - Dirk (ep8)
We, Without Wings - Under the Innocent Sky. - Hein (ep5), Platinum (ep7), Additional Voices
xxxHOLiC - Clerk A (ep6)
Yona of the Dawn - Ik-Su
Yuri!!! on Ice - Viktor Nikiforov
YuYu Hakusho: Ghost Files - Fan 1 (ep45), Jin, Sakamoto (ep5), Suzaku, Additional Voices
Anime Shorts
Anime Specials
Movies
OVA
Video Games
Web Anime
Trivia
Number of VA titles on this wiki: (157)
Ad blocker interference detected!
Wikia is a free-to-use site that makes money from advertising. We have a modified experience for viewers using ad blockers

Wikia is not accessible if you've made further modifications. Remove the custom ad blocker rule(s) and the page will load as expected.