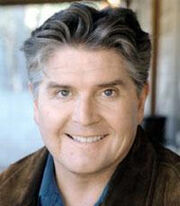 James Kevin "Jim" Ward
(born May 19, 1959 in New York City, New York) is an American voice actor. He co-hosts The Stephanie Miller Show, a nationally-syndicated liberal radio talk show which features a number of his impersonations of political figures and other celebrities and newsmakers. On the show, it was revealed that Jim went to the University of California, Los Angeles, where his father, Don Ward, was a professor of German and folklore.
Filmography
Animation
Anime
Movies
Video Games
Audio Drama
Trivia
Number of VA titles on this wiki: (33)
Ad blocker interference detected!
Wikia is a free-to-use site that makes money from advertising. We have a modified experience for viewers using ad blockers

Wikia is not accessible if you've made further modifications. Remove the custom ad blocker rule(s) and the page will load as expected.