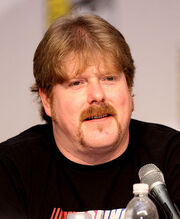 John William DiMaggio
(born September 4, 1968) is an American voice actor and beatboxer. He's a native of North Plainfield, New Jersey. He's maybe most known for his role as Bender from
Futurama
. He's also known for voicing Marcus Fenix in
Gears of War
and Dr. Drakken in
Kim Possible
.
DiMaggio is a former comedian, appearing on stage as part of a comic duo named "Red Johnny and the Round Guy" and has several on-screen credits, such as Steve Ballmer in Pirates of Silicon Valley and as the recurring character Dr. Sean Underhill on Chicago Hope.
He's also known as: Johnny Dee.
Filmography
Animation
Anime
DVD Specials
Documentaries
Movies
OVA
Shorts
TV Specials
Video Games
Web Animation
Trivia
Number of VA titles on this wiki: (237)
Ad blocker interference detected!
Wikia is a free-to-use site that makes money from advertising. We have a modified experience for viewers using ad blockers

Wikia is not accessible if you've made further modifications. Remove the custom ad blocker rule(s) and the page will load as expected.