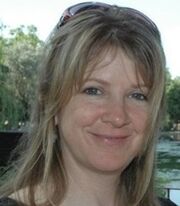 Julie Ann Taylor (born on January 29, 1961 in Fort Irwin, California) is an American voice actress who is best known for her role of Ai Tanabe in Planetes, Mutsumi Otohime in Love Hina, Yukari Hayasaka in Paradise Kiss and Taiga Fujimura in Fate/stay night among others.
She's also known as: Cricket Brown, Jean Howard and Julie Pickering.
Filmography
Anime
Anime Specials
Audio Drama
Movies
OVA
Shorts
Video Games
Trivia
Number of VA titles on this wiki: (189)
Ad blocker interference detected!
Wikia is a free-to-use site that makes money from advertising. We have a modified experience for viewers using ad blockers

Wikia is not accessible if you've made further modifications. Remove the custom ad blocker rule(s) and the page will load as expected.