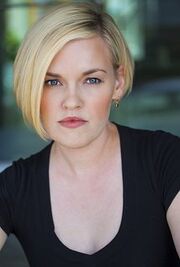 Kari Wahlgren
(born July 13, 1977 in Hoisington, Kansas, USA) is an American voice actress, stage actress, TV actress and film actress.
She's known for voicing Amora the Enchantress in The Avengers: Earth's Mightiest Heroes, Anemone in Eureka Seven, Ashe in Final Fantasy XII, Celty Sturluson in Durarara!!, Emma Frost in Wolverine and the X-Men and Tigress in DreamWorks Kung Fu Panda: Legends of Awesomeness.
She also goes under the names: Faye Lansing, Jennifer Jean, Kay Jensen, Leah Allen, Lucy Hudson, Lynn David, Renee Emerson, Shawna Smith, Tara Hudson and Tara Malone.
Filmography
Animation
Anime
Anime Shorts
Anime Specials
DVD Specials
Motion Comics
Movies
OVA
Shorts
TV Specials
Video Games
Web Animation
Web Anime
Web Series
Other Voice Work
Trivia
Number of VA titles on this wiki: (329)
Ad blocker interference detected!
Wikia is a free-to-use site that makes money from advertising. We have a modified experience for viewers using ad blockers

Wikia is not accessible if you've made further modifications. Remove the custom ad blocker rule(s) and the page will load as expected.