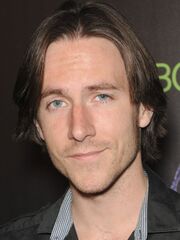 Matthew Christopher Miller (born June 29, 1982 in Palm Beach Gardens, Florida, United States), better known as Matthew Mercer, is an American voice actor, script writer and independent film maker. He also goes under the name Matt Miller, Matthew Miller, and Masamune Miller.
Filmography
Animation
Anime
Accel World - Black Vice
Aldnoah.Zero - Kōichirō Marito
Assassination Classroom: Second Season - Nagisa's Father (ep1)
Attack on Titan - Levi
Attack on Titan: Junior High - Levi
Black Butler: Book of Circus - Joker
Bleach - Michel (ep311), Shūkurō Tsukishima
Blood Lad - Butler, Demon B (ep5), Fuyumi's Father, Kiji, Sam (ep11), Vampire (ep1)
Brothers Conflict - Yusuke Asahina
Code Geass: Lelouch of the Rebellion - Additional Voices
Cowboy Bebop - Additional Voices
Daimidaler: Prince V.S. Penguin Empire - Kouichi Madanbashi
Digimon Fusion - Omnimon (ep1), Reapmon (ep1)
Dual! Parallel Trouble Adventure - Additional Voices
Durarara!!x2 Shō - Blue Square Member, Mizuki Akabayashi
Durarara!!x2 Ten - Mizuki Akabayashi, Kidnapper#2 (ep4), Man in Crowd#1 (ep1), Voice of Ikebukuro (ep4)
Fairy Tail - Silver Fullbuster
Fate/Zero - Kititsugu Emiya
Gargantia on the Verdurous Planet - Chamber
Hunter × Hunter - Leorio Paladiknight, Opponent (ep27)
JoJo's Bizarre Adventure: Stardust Crusaders - Jotaro Kujo
K - Kuroh Yatogami
Kekkaishi - Tomonori Ichigaya (eps2-7)
Kill la Kill - Aikurō Mikisugi
Laughing Under the Clouds - Additional Voices
Magi: The Kingdom of Magic - Sinbad
Magi: The Labyrinth of Magic - Sinbad
Naruto: Shippūden - Yamato (eps230-256), Allied Shinobi A (ep301), Ganryū, Gyūki, Kaiza (ep180), Kanabun (ep181), Masked Ninja (ep183), Sand Assassin (ep182), Shiranami, Yahiko (eps252-253), Additional Voices
Naruto spin off! Rock Lee & his ninja pals - Might Guy, Hizashi Hyūga (ep44), Kotetsu Hagane, Man in Line B (ep34), Pain (ep38), Rogue Ninja (ep4), Rogue Ninja (ep8), Yamato (ep51), Zetsu (ep38)
Nura: Rise of the Yokai Clan: Demon Capital - Ibaraki-Doji, Rihan Nura
One Piece - Trafalgar Law
Persona 4: The Animation - Kanji Tatsumi (eps13-26), Taro Namatame
Sailor Moon - Kunitachi (ep15; 2014 Viz Dub)
Sailor Moon R - Doctor (ep5; 2015 Viz Dub), Prince Demande (2015 Viz Dub)
Space☆Dandy - Additional Voices
Sword Art Online - Grimlock (ep6)
Sword Art Online II - Seijirō Kikuoka
Tenkai Knights - Zephyrus
Trigun - Additional Voices
Yona of the Dawn - Additional Voices
Zetman - Hayami, Police (ep1), Shuu Isono/Sea Lice EVOL, Superhero Alphas
Anime Specials
Movies
OVA
TV Series
Video Games
Ace Combat 5: The Unsung War - Albert Genette
Ace Combat: Assault Horizon - Gunner, Additional Voices
Ace Combat Infinity - Kacper Cohen, Flight Tower, Rapier 1
Ace Combat Zero: The Belkan War - Brett Thompson
Aliens: Colonial Marines - Keyes
The Amazing Spider-Man - Additional Voices
The Amazing Spider-Man 2 - Policemen (Android/iOS Version)
Atelier Ayesha: The Alchemist of Dusk - Harry Olson
Batman: Arkham Knight - Robin/Tim Drake
Batman: Arkham Origins - Anarky, Additional Voices
Brütal Legend - Gravediggers
Call of Duty: Black Ops II - Multiplayer Voices, Additional Voices
Call of Duty: Black Ops III - Additional Voices
Call of Duty: Ghosts - Additional Voices
Call of Duty: Modern Warfare 2 - Additional Voices
Call of Duty: Modern Warfare 3 - Additional Voices
Danganronpa Another Episode: Ultra Despair Girls - Haiji Towa
Dead or Alive 5 - Bayman
Deadpool - Ranged 1, Ranged 5
Destiny - Guardian Human Male
Deus Ex: Mankind Divided - Additional Voices
Diablo III: Reaper of Souls - Additional Voices, Monster Voice Effects
Disney Infinity 3.0 - Wedge Antilles
Driver: San Francisco - Additional Voices
Dynasty Warriors 8 - Jia Chong, Taishi Ci
Eat Lead: The Return of Matt Hazard - Dockworker, Elite Commando, Employee Tester
Evolve - Abe
Fairy Fencer F - Apollonius, Bandit C, Hoodlum B
Fallout 4 - MacCready, Z1-14
Final Fantasy Crystal Chronicles: The Crystal Bearers - Blaze, Lilty Elite Guard
Final Fantasy Type-0 - Trey
Final Fantasy XV - Cor Leonis
Fire Emblem: Awakening - Chrom
Fire Emblem Fates - Azama, Ryoma, Shigure
Fire Emblem Heroes - Azama, Chrom, Ryoma
Gears of War: Judgment - Onyx Soldier, PA Officer, Pilot
Guild Wars 2 - PC Norn Male
Guilty Gear Xrd -SIGN- - Zato-1
Hearthstone - Nefarian, Ragnaros, Rexxar
InFamous: First Light - Additional Voices
InFamous: Second Son - Concrete Pawn 3, Tanner Black
Infex - Additional Voices
Kingdom Hearts HD 2.8 Final Chapter Prologue - Foreteller Ira
Kingdoms of Amalur: Reckoning - Gorhart Citizen, Murdoc Hain, Villagers
Knack - Gundahar
The Last of Us - Additional Voices
Lego Jurassic World - Additional Voices
Lego Star Wars: the Force Awakens - Additional Voices
Lightning Returns: Final Fantasy XIII - Additional Voices
Lost Dimension - The End
Mad Max - Additional Voices
Medal of Honor: Warfighter - Atlas One, Predator Driver
Medal of Honor (2010) - Chinook Pilot 2
Metal Gear Solid: Peace Walker - Soldier, Additional Voices
Metal Gear Solid V: Ground Zeroes - Soldiers, Additional Voices
Metal Gear Solid V: The Phantom Pain - Additional Voices
Middle-earth: Shadow of Mordor - Humans, Nemesis Orcs
Mighty No.9 - Mighty No.1 Pyrogen
Minecraft: Story Mode - Aiden (ep1), Griefer (ep2), Otis (ep1), Schoolboy (ep2), TNT Dustin (ep2)
Mortal Kombat (2011) - Stryker, Soldier#1
Mugen Souls - Elka
Mugen Souls Z - Elka
N3II: Ninety-Nine Nights - Rolland
No More Heroes 2: Desperate Struggle - Skelter Helter, Bishop Shidux
Overwatch - McCree
Persona 4: Dancing All Night - Kanji Tatsumi
Persona 4 Arena: Ultimax - Kanji Tatsumi
Persona 5 - Yusuke Kitagawa
Persona Q: Shadow of the Labyrinth - Kanji Tatsumi
Pillars of Eternity - Additional Voices
Professor Layton and the Miracle Mask - Henry Ledore
République - Additional Voices
Resident Evil: Revelations 2 - Additional Voices
Resident Evil 6 - Leon S. Kennedy
The Rise of the Argonauts - Myron
Rune Factory: Tides of Destiny - James
Rune Factory 4 - Leon
Saints Row: Gat out of Hell - Blackbeard, Demons, Gallows Dodger
Saints Row IV - Additional Voices
Scaler - Scaler
Sengoku Basara: Samurai Heroes - Maeda Keiji
Shin Megami Tensei: Devil Summoner: Soul Hackers - Kinap, Shopkeeper, Sukeroku
Shin Megami Tensei IV - Walter
Shinobido 2: Revenge of Zen - Kazama Samurai B, Kihan Samurai A, Taraba Ninja
Skylanders: Giants - Additional Voices
Skylanders: Imaginators - Spyro, Tae Kwan Crow
Skylanders: SuperChargers - Additional Voices
Skylanders: Trap Team - Additional Voices
Soulcalibur V - Z.W.E.I.
Star Ocean: The Last Hope - Edge Maverick
Star Trek: Shattered Universe - Additional Voices
Star Wars: Battlefront (2015) - Additional Voices
Steel Battalion: Heavy Armor - Additional Voices
Street Fighter IV - Fei Long
Super Smash Bros. for Wii U - Chrom
Super Street Fighter IV - Fei Long
Tales of Xillia - Alvin
Tales of Xillia 2 - Alvin
Titanfall 2 - Jack Cooper
Tony Hawk's Pro Skater 5 - Additional Voices
Ultra Street Fighter IV - Fei Long
White Knight Chronicles: Origins - Cassius
White Knight Chronicles II - Count Drisdall
Wolfenstein - Axis Medic, Erik Engle, Scientist#1, Wehrmacht Infantry
World of Warcraft: Legion - Rexxar
World of Warcraft: Mists of Pandaria - Additional Voices
World of Warcraft: Warlords of Draenor - Additional Voices
XCOM 2 - US Soldier
X-Men Origins: Wolverine - Additional Voices
Xenoblade Chronicles X - Lao
Web Animation
Web Specials
Web Anime
Trivia
Number of VA titles on this wiki: (182)
Ad blocker interference detected!
Wikia is a free-to-use site that makes money from advertising. We have a modified experience for viewers using ad blockers

Wikia is not accessible if you've made further modifications. Remove the custom ad blocker rule(s) and the page will load as expected.