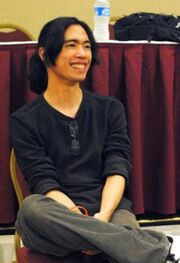 Micah Solusod
(born August 21, 1990 in Hawaii, USA) is an American voice actor working for FUNimation Entertainment. He is best known for his role as Soul Eater Evans in
Soul Eater
and Kenshin Himura in
Rurouni Kenshin: Origins
,
Rurouni Kenshin: Kyoto Inferno
, and
Rurouni Kenshin: The Legend Ends
.
He is married to voice actress Apphia Yu.
Filmography
Anime
A Certain Magical Index - Toma Kamijo, Additional Voices
A Certain Magical Index II - Toma Kamijo
A Certain Scientific Railgun - Toma Kamijo
A Certain Scientific Railgun S - Toma Kamijo
ACCA: 13-Territory Inspection Dept. - Danlin (ep5)
All Out!! - Musashi
Appleseed XIII - Yoshitsune, Additional Voices
Assassination Classroom - Gakushu Asano
Assassination Classroom: Second Season - Gakushu Asano
Baka and Test: Summon the Beasts - Genji Hiraga, Additional Voices
Baka and Test: Summon the Beasts 2 - Genji Hiraga
Bamboo Blade - Schoolboy B (ep23), Takachiho Suginokoji (ep16), Additional Voices
Ben-To - Additional Voices
Big Windup! - Takashima
Birdy the Mighty: Decode - Tsutomu Senkawa
Birdy the Mighty Decode:02 - Tsutomu Senkawa
Blassreiter - Malek Werner
Blood Blockade Battlefront - Black/William Macbeth, King of Despair
Brothers Conflict - Tsubaki Asahina
Chaos Dragon - Additional Voices
Chrome Shelled Regios - Loi Entorio, Additional Voices
Corpse Princess - Hiroshige Ushijima
Cøde:Breaker - Rei Ogami
D-Frag! - Hachi Shioh, Mr. Kids (ep5), Additional Voices
D.Gray-Man - Kie (ep51), Additional Voices
D.Gray-Man: Hallow - Kie, Wisely
Dance with Devils - Additional Voices
Danganronpa 3: The End of Hope's Peak High School - Despair Arc - Hajime Hinata/Izuru Kamakura (Voice Double)
Deadman Wonderland - Yamakatsu (ep1), Additional Voices
Death Parade - Shigeru Miura (ep3)
Divine Gate - Surtr
Dragonaut -The Resonance- - Additional Voices
Drifters - Mills
Eureka Seven Ao - Ao Fukai
Fairy Tail - Midnight/Macbeth, Additional Voices
Free! Eternal Summer - Kazuki Minami
Fullmetal Alchemist: Brotherhood - Ishvalan Boy (ep18)
Gangsta. - Young Nicolas Brown
Garo: The Animation - Mauro (ep14), Additional Voices
Good Luck Girl! - Urashimako, Additional Voices
Guilty Crown - Gai Tsutsugami
Heaven's Lost Property: Forte - Additional Voices
Heavy Object - Havia Winchell
Initial D: Fourth Stage - Additional Voices
Initial D: Second Stage - Additional Voices
Jormungand - Jonah
Jormungand: Perfect Order - Jonah
Kamisama Kiss - Mizuki
Kamisama Kiss 2 - Mizuki, Additional Voices
Kaze no Stigma - Additional Voices
Kenichi: The Mightiest Disciple - Toramachi (ep29), Additional Voices
Last Exile: Fam, The Silver Wing - Claus Valca
Laughing Under the Clouds - Hirari Abe
Level E - Yukitaka Tsutsui
Linebarrels of Iron - Additional Voices
Michiko & Hatchin - Additional Voices
Mikagura School Suite - Yuto Akama
Ninja Slayer from Animation - Albatross (ep19), Additional Voices
Nobunagun - Additional Voices
Noragami - Yukine
Noragami: Aragoto - Yukine
Oh! Edo Rocket - Additional Voices
Ōkami-san and her Seven Companions - List Kiriki
One Piece - Coby (ep313+), Additional Voices
Orange - Kakeru Naruse
Ping Pong: The Animation - Makoto Tsukimoto/Smile
Prince of Stride: Alternative - Ayumu Kadowaki
Psycho-Pass - Melancholia (ep5)
Rage of Bahamut: Genesis - Michael
Red Data Girl - Miyuki Sagara
ReLIFE - Arata Kaizaki
Rideback - Haruki Hishida
The Rolling Girls - Chi, Additional Voices
Sands of Destruction - Reve Urshela, Additional Voices
selector infected WIXOSS - Kazuki Kurebayashi
Seraph of the End - Yuichiro Hyakuya
Sgt. Frog - Chief (ep27), Minemine (ep72), Additional Voices
Shakugan no Shana II (Second) - Sorath (ep1)
Shakugan no Shana III (Final) - Francois Auric, Additional Voices
Shangri-La - Shion Imaki, Additional Voices
Shiki - Takami (ep1), Additional Voices
Show By Rock!! - Riku
Show By Rock!! Season 2 - Riku
Snow White with the Red Hair - Atri
Soul Eater - Soul Eater Evans
Soul Eater NOT! - Soul Eater Evans
Space☆Dandy - Bea
Spice and Wolf - Additional Voices
Steins;Gate - Additional Voices
Terror in Resonance - Additional Voices
Tokyo Ghoul - Seido Takizawa (ep9)
Tokyo Ghoul √A - Seido Takizawa, Additional Voices
Tokyo Ravens - Atsune Hirata
Touken Ranbu: Hanamaru - Akashi Kuniyuki
The Tower of Druaga: The Aegis of Uruk - Prince (ep8), Young Gilgamesh (ep3), Additional Voices
The Tower of Druaga: The Sword of Uruk - Young Gilgamesh (ep12)
Ultimate Otaku Teacher - Kousuke
Yona of the Dawn - Su-Won
Yuri!!! on Ice - Yuri Plisetsky
Live Action Movies - Dubbing
Movies
OVA
Video Games
Web Animation
Web Anime
Trivia
Number of VA titles on this wiki: (127)
Ad blocker interference detected!
Wikia is a free-to-use site that makes money from advertising. We have a modified experience for viewers using ad blockers

Wikia is not accessible if you've made further modifications. Remove the custom ad blocker rule(s) and the page will load as expected.