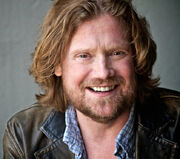 Michael Lindsay
(born May 9, 1963) is a former American voice actor. Lindsay has also been credited under the name
Dylan Tully
and
John Cannon
. Lindsay was born in Washington, D.C. but moved at a young age to New York. He is a straight theatre major from Adelphi University.
Filmography
Animation
Anime
Android Kikaider - The Animation - Additional Voices
Bleach - Kisuke Urahara, Man (ep1), Rudbornn Chelute (ep152), Sentaro Kotsubaki (ep40), Terreshorkan (eps147-149), Thug (ep37)
Carried by the Wind: Tsukikage Ran - Additional Voices
Code Geass: Lelouch of the Rebellion - Shinichiro Tamaki
Code Geass: Lelouch of the Rebellion R2 - Shinichiro Tamaki, Additional Voices
Cowboy Bebop - Weapon Shop Owner (ep2), Additional Voices
Digimon: Digital Monsters - Joe Kido, Greymon
Digimon Data Squad - Gotsumon, Agent (ep21)
DinoZaurs - Rick
Dual! Parallel Trouble Adventure - Additional Voices
Ghost in the Shell: S.A.C. 2nd GIG - Body Guard (ep28), Jigabachi Pilot (ep30)
Gun Frontier - Quiyor
Initial D: First Stage - Miki (ep7), Miki's Friend (ep7)
Initial D: Second Stage - Wataru "Aki" Akiyama
Kaze no Yojimbo - George Kodama
Marmalade Boy - Yuu Matsuura, Yamasaki, Additional Voices
Mon Colle Knights - Additional Voices
Naruto - Kankurō
Naruto: Shippūden - Kankurō
Outlaw Star - Terry, Tobigera
Rurouni Kenshin - Yutaro Tsukayama (eps19-21)
S-CRY-ed - Kyoji Mujo, Subordinate D (ep14)
Serial Experiments Lain - Delivery Guy
The Big O - Police (ep22)
Transformers: Robots in Disguise - Rollbar, Skidz
Trigun - Additional Voices
Vampire Princess Miyu - Man B (ep18), Man on Bike (ep18), Police (ep18), Sone (ep20), Street Vendor/Shinma
Wolf's Rain - Driver (ep6)
Zatch Bell! - Apollo
Audio Drama
Movies
OVA
TV Specials
Video Games
Trivia
Number of VA titles on this wiki: (82)
Ad blocker interference detected!
Wikia is a free-to-use site that makes money from advertising. We have a modified experience for viewers using ad blockers

Wikia is not accessible if you've made further modifications. Remove the custom ad blocker rule(s) and the page will load as expected.