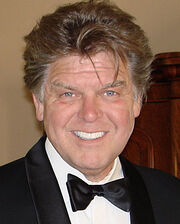 Patrick Howard "Pat" Fraley
(born February 18, 1949) is an American voice actor, who is best known as the voice of Krang, Casey Jones and numerous other characters from
Teenage Mutant Ninja Turtles
. He is also a member of Voice and Speech Trainers of America.
Filmography
Animation
Movies
BraveStarr: The Movie - Marshall Bravestarr, Thunder Stick
Casper's Scare School - Narrator, Scare Center Host 1, Werewolf, Wolfie
Charlotte's Web 2: Wilbur's Great Adventure - Donkey, Additional Voices
Chicken Little - Additional Voices
Elysium (2001) - Gramps, Oz
Garfield Gets Real - Delivery Gnome, Sid
Happy Feet Two - Additional Voices
Here Comes Peter Cottontail the Movie - Chipmunk, Hawk, ADR Loop Group
I Am Legend - President
Lazer Tag Academy: The Movie - Charlie Ferguson, Skugs
Monsters, Inc. - Additional Voices
Nine Dog Christmas - Number 2 Elf, Santa, Additional Voices
Porco Rosso - Additional Voices
Princess Mononoke - Additional Voices
Puss in Boots - ADR Loop Group
Rainbow Brite and the Star Stealer - Buddy Blue, Dog, Glitterbot, Guard, Lurky, On-X, Slurthie, Spectran
Rockin' with Judy Jetson - Zilchy
Tales from Earthsea - Weapon Salesman, Additional Voices
Tangled - Additional Voices
The Adventures of the American Rabbit - Tini Meeny
The Ant Bully - Ant Council#1
The Boxtrolls - Fragile, Sweets
The Good, the Bad and Huckleberry Hound - Additional Voices
The Lego Movie - ADR Loop Group
The Snow Queen 2 - Rahat
The Wild - Additional Voices
Toy Story 2 - Buzz Lightyear (exertion noises)
Yogi's Great Escape - Cowboy Kid #1, Reporter, Swamp Fox Kid
Shorts
TV Mini-Series
TV Specials
Video Games
Trivia
Number of VA titles on this wiki: (167)
Ad blocker interference detected!
Wikia is a free-to-use site that makes money from advertising. We have a modified experience for viewers using ad blockers

Wikia is not accessible if you've made further modifications. Remove the custom ad blocker rule(s) and the page will load as expected.