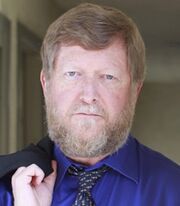 Paul Schmidl Peter
is an American voice actor. He is most often credited as Paul St. Peter. He also goes under the name
A.C. Doyle
,
George C. Cole
,
Francis C. Cole
and
George Z. Cole
.
Filmography
Anime
009 Re:Cyborg - Dr. Isaac Gilmore
Arc the Lad - Gorgon (eps21-26), Quote, Soldiers
Argento Soma - Officer (ep16)
Battle B-Daman - Armada, Marda B., Thug (ep1), Additional Voices
Bleach - Battikaroa (ep267), Grand Fisher, Yammy Llargo
Bobobo-bo Bo-bobo - 3 (ep13), Captain Battleship, Additional Voices
Burn-Up Scramble - Additional Voices
Carried by the Wind: Tsukikage Ran - Additional Voices
Cowboy Bebop - Punch, Additional Voices
Digimon: Digital Monsters - Wormmon, Apocalymon, Kiwimon (ep43), Leomon, SaberLeomon (ep47)
Digimon Data Squad - Boss (ep8), MetalPhantomon (ep15), SaberLeomon
Durarara!! - Anri's Father, Dollar#5 (ep11), Higa, Syndicate Member#2 (ep13), Man's Voice B (ep14)
Eureka Seven - Base Commander (ep6), Man with Holland Tattoo (ep7), Norma 01 (eps 7, 14)
Fighting Spirit - Mr. Yagi, Miyata's Father
Gad Guard - Richie, Shopkeeper's Bodyguard (ep4)
Gankutsuou: The Count of Monte Cristo - Fernand Morcerf
Ghost in the Shell: S.A.C. 2nd GIG - Priest (ep5), Refugee (ep7), Additional Voices
Ghost in the Shell: Stand Alone Complex - Imakurusu
Grenadier - Restaurant Owner (ep4), Shop Owner
Gun Frontier - Ahonenn, Mayor, Postman
Gungrave - Bodyguard (ep21), Nyman (ep23)
Gurren Lagann - Guzack (ep2), Jorgun, Thymilph, Village Chief (ep1)
Heat Guy J - Additional Voices
Hunter × Hunter - Examinee (ep8), Todo (ep6), Additional Voices
Kekkaishi - Koya
Last Exile - Additional Voices
Mars Daybreak - OD Pirate
Monster - Dr. Julius Reichwein, BKA Chief, Bar Owner (ep23), Eisler Memorial Doctor, Man (ep11), Police Chief (ep7), Police Inspector (ep17), Truck Driver (ep20), Turkish Man (ep17)
Moribito: Guardian of the Spirit - Commander (ep6), Giant (ep7), Star Reader A (ep9), Star Reader C (ep9)
Naruto - Judge (ep160), Kōmei, Kurama the Nine-Tailed Fox, Additional Voices
Naruto: Shippūden - Kurama the Nine-Tailed Fox, Additional Voices
Naruto spin off! Rock Lee & his ninja pals - Kurama the Nine-Tailed Fox (ep23)
One Punch Man - The Beast King (ep2), Subterranean (ep1)
Otogi Zoshi - Tabigeinin B (ep1)
Outlaw Star - Additional Voices
Overman King Gainer - Shinjin, Additional Voices
Planetes - Gigalt Gangaragash, Additional Voices
Rave Master - Commander (ep39), Fura, Man (ep39)
Rurouni Kenshin - Guspal Genemon, Kuro, Mayor (ep48), Merchant (ep39), Policemen (ep49), Saizuchi, Second Lieutenant Lentz, Thief (ep43), Tsukio
S-CRY-ed - Biff (ep1), Board Member (ep6), Carlnen (ep2), Doctor (ep6), Guard (ep3), Operator (ep3), Operator (ep15), Spectator B (ep15), Subordinate (ep4)
SD Gundam Force - Gunbike
Saint Tail - Mizutani (ep7)
Saiyuki Reload - Additional Voices
Saiyuki Reload: Gunlock - Dokugakuji
Samurai Champloo - Additional Voices
Serial Experiments Lain - Additional Voices
Stellvia - Captain (ep13), Carl Hutter, FJ101 Captain (ep1), Man (ep13)
Tenjho Tenge - Kouji Sagara
The Twelve Kingdoms - Kantai
Trigun - Loose Ruth (ep1)
Viewtiful Joe - Almighty Leader (eps23-26), Captain Blue (eps23-26)
Wild Arms: Twilight Venom - Danny (ep6), Additional Voices
Witch Hunter Robin - Hiroshi Honma, Kiyoshi Matsunaga, Police Commissioner, Additional Voices
X - Priest (ep19)
Zetman - Dr. Sugita, Delinquent C (ep1), Doctor (ep1)
Anime Shorts
Movies
OVA
Video Games
Trivia
Number of VA titles on this wiki: (158)
Ad blocker interference detected!
Wikia is a free-to-use site that makes money from advertising. We have a modified experience for viewers using ad blockers

Wikia is not accessible if you've made further modifications. Remove the custom ad blocker rule(s) and the page will load as expected.