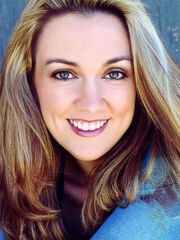 Stephanie Young Brehm
is an American voice actress working for FUNimation Entertainment. She's also a Jazz singer and the vocalist of her husband's band 'The Brehm's'.
She is best known for the dub role of Nico Robin in One Piece, Lizbell in Casshern Sins, Clare in Claymore and Olivier Mira Armstrong in Fullmetal Alchemist: Brotherhood.
She also goes by the names: Callie McHalen, Callie Young and Kelly McHalen.
Filmography
Anime
AM Driver - Paf Shining
A Certain Magical Index - Sherry Cromwell
A Certain Magical Index II - Sherry Cromwell
Aquarion - Sophia Belin
Aquarion Evol - Alicia
Aria the Scarlet Ammo - Kanae Kanzaki (ep4)
Assassination Classroom - Additional Voices
BECK: Mongolian Chop Squad - Additional Voices
B't X - Karen
Baccano! - Adele (ep1)
Baki the Grappler - Jane
Bamboo Blade - Yoshikawa
Basilisk - Kagero
Big Windup! - Hanai's Mother
Birdy the Mighty: Decode - Nechla Geeze
Birdy the Mighty Decode:02 - Nechla Geeze
Black Butler - Additional Voices
Black Cat - Echidna Parass
Blassreiter - Sasha Jobson
Blood Blockade Battlefront - K.K.
Burst Angel - Sam's Wife (ep14), Additional Voices
Case Closed - Isabel Nottingham, Lady (ep130), Lindsey Mathison, Liz Faulkner
Casshern Sins - Lizbell (ep7)
Chrome Shelled Regios - Kanalis
Claymore - Clare
Corpse Princess - Riko
D.Gray-Man - Female Akuma (eps 14-15)
Dagashi Kashi - Tamai (ep7)
Dance in the Vampire Bund - Hysterica
Darker than Black - Arisa Mitsuki/The Widow
Date A Live - Additional Voices
Deadman Wonderland - Harumi (ep9), Additional Voices
Death Parade - Yumi
Desert Punk - Junko Asagiri
Dimension W - Mary
Dragonaut -The Resonance- - Yuri Kitajima
Eden of the East - Juiz
El Cazador de la Bruja - Nina (ep26)
Fairy Tail - Karen Lilica (ep32), Pisces White, Additional Voices
Fractale - Moeran, Additional Voices
Freezing - Elise Schmitz
Fullmetal Alchemist: Brotherhood - Olivier Mira Armstrong
Ga-Rei-Zero - Misuzu Nakabayashi (ep6)
Ghost Hunt - Kana Morishita
Glass Fleet - B.B., Mozarella, Additional Voices
Gosick - Ginger Pie
Gunslinger Girl - Flanca
Gunslinger Girl: Il Teatrino - Flanca
Heaven's Lost Property - Gamma (ep13)
Heaven's Lost Property: Forte - Gamma
Hell Girl - Aki Abe (ep20), Additional Voices
Hero Tales - Choka
Heroic Age - Lecty Leque, Lecty Illusion A-I (ep25)
High School DxD: BorN - Shuri Himejima (ep5)
Initial D: First Stage - Additional Voices
Is This a Zombie? - Eucliwood Hellschyte (Fantasy; ep4)
Is This a Zombie? of the Dead - Naegleria "Nene" Nebiros
Jyu-Oh-Sei - Eva Klein (ep11)
Kamisama Kiss - Additional Voices
Kenichi: The Mightiest Disciple - Kaname Kugatachi/Freya
Kodocha - Ayami (ep32), Mrs. Tomita, Additional Voices
Last Exile: Fam, The Silver Wing - Farahnāz Augusta (ep11)
Lupin the Third: The Woman Called Fujiko Mine - Cicciolina (ep2), Additional Voices
Moon Phase - Elfriede
Mushi-Shi - Kinu (ep4), Mother (ep17), Yahagi (ep24), Yoki's Mother (ep11)
My Bride is a Mermaid - Ren Seto
Nabari no Ou - Korin
Negima! Magister Negi Magi - Mana Tatsumiya/Student No.18
Negima!? Magister Negi Magi - Girl Walla, Mana Tatsumiya/Student No.18, Old Woman (ep8)
Ninja Slayer from Animation - Additional Voices
Oh! Edo Rocket - O-Ise
Ōkami-san and her Seven Companions - Momoko Kibitsu
One Piece - Nico Robin, Nico Olvia
Ouran High School Host Club - Benio Amakusa
Peach Girl - Toji's Mom (ep3)
Psycho-Pass - Dominator
Psycho-Pass 2 - Dominator
RIN ~Daughters of Mnemosyne~ - Elisa (ep5)
Ragnarok The Animation - Additional Voices
Red Data Girl - Sawa Suemori
Rideback - Tamayo Kataoka
Robotics;Notes - Tamaki
Rosario + Vampire Capu2 - Ageha Kurono
Rumbling Hearts - Dr. Motoko Kozuki
Samurai 7 - Shika
Sasami: Magical Girls Club - Priestess (ep16), Priestess A, Sorceress A (ep23), Subordinate A (ep21)
Save Me! Lollipop - Sarasa
School Rumble - Itoko Osakabe
School Rumble: 2nd Semester - Itoko Osakabe
Sekirei - Kazehana
Sekirei: Pure Engagement - Kazehana
Sengoku Basara: Samurai Kings - Nōhime
Sgt. Frog - Dororo's Mother (ep13), Additional Voices
Shakugan no Shana III (Final) - Lerajie, Additional Voices
Shiki - Kanami Yano
Shin-chan - Miss Polly (ep1), Nanako, Radio Voice (ep30), Rhonda (ep67), Additional Voices
Show By Rock!! - Darydayu
Show By Rock!! Season 2 - Darydayu
Shuffle! - Additional Voices
SoltyRei - Miranda Maverick
Soul Eater - Arachne
Space☆Dandy - Rose Reginald (ep25)
Speed Grapher - Kokubunji (ep1)
Spice and Wolf II - Fleur Boland/Eve
The Future Diary - Mother (ep18)
The Galaxy Railways - Julia F. Reinhart
The Heroic Legend of Arslan - Queen Tahamine
The Heroic Legend of Arslan: Dust Storm Dance - Tahamenay
The Legend of the Legendary Heroes - Additional Voices
The Rolling Girls - Fukue (ep7), Shima Ishizukuri
The Tower of Druaga: The Aegis of Uruk - Iriri, Ishtar (ep1)
The Tower of Druaga: The Sword of Uruk - Amina's Captain, Iriri
Trinity Blood - Mireille (ep2)
Tsubasa: RESERVoir CHRoNiCLE - Female Vocal, Oruha
Witchblade - Nora
xxxHOLiC - Hanahana (ep6)
Yona of the Dawn - Additional Voices
Anime Shorts
Movies
OVA
Video Games
Web Anime
Trailers
One Piece Season 2: Seventh Voyage - Nico Robin
Trivia
Number of VA titles on this wiki: (156)
Number of Commercial/Promo/Trailer and Misc. Voice Works: (1)
Ad blocker interference detected!
Wikia is a free-to-use site that makes money from advertising. We have a modified experience for viewers using ad blockers

Wikia is not accessible if you've made further modifications. Remove the custom ad blocker rule(s) and the page will load as expected.