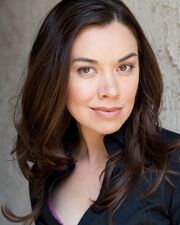 Tara Platt
is an American film, television and voice actress. She is married to fellow voice actor
Yuri Lowenthal
.
Platt co-founded Monkey Kingdom Productions with partner Yuri Lowenthal in 2004. Monkey Kingdom has produced two feature films including Lowenthal's Tumbling After, and mockumentary Con Artists. The production company is currently working on web-series Shelf Life WebSeries, airing now on YouTube. Tara Platt and Yuri Lowenthal also co-authored a book on voice-over called Voice-Over Voice Actor: What It's Like Behind the Mic.
She's known for voicing Temari in Naruto.
She's also known as: Zoe Oliver.
Filmography
Animation
Anime
Ah My Buddha - Yūko Atōda (eps1-8), Locker Room Girl C (ep3), Store Clerk (ep2)
Ah My Buddha: Katsu - Yūko Atōda (eps9-13)
Bleach - Lisa Yadōmaru, Sode no Shirayuki, Additional Voices
Blue Dragon - Cynthia
Boys Be... - Boy (ep11), Mizuki Takano (ep2), Additional Voices
Buso Renkin - Tokiko Tsumura, High School Student (ep12)
DearS - Eiko (eps8-13), Girl (ep2), Girl Student (ep6)
Fate/stay night - Caster
Girls Bravo - Hakana (ep10)
Gun X Sword - Marianne (ep17), Secretary (ep1)
Hyperdimension Neptunia - Vert/Green Heart
K - Seri Awashima
Kamichu! - Benten sama (ep12), Female Student B (ep15), Girl A (ep6), God of Kombucha (ep7), God of Tire (ep7), Grandmother (ep6), Heroine in Movie (ep11), Vice Chairman (ep10)
Kanokon: The Girl Who Cried Fox - Yukihana
Kekkaishi - Mother with Spirit Baby (ep44), Ryo Shishio
Kyo Kara Maoh! - Additional Voices
Lagrange: The Flower of Rin-ne - Tomoe's Friend (ep10)
Marmalade Boy - Jinny Golding, Meiko's Mother
Monster - Eva Heinemann
Moribito: Guardian of the Spirit - Gambler (ep10), Maid A (ep3), Nimka's Mother, Second Queen
Naruto - Temari, Additional Voices
Naruto: Shippūden - Temari, Additional Voices
Nodame Cantabile - Kikuchi's Woman (ep17), Michael (ep7), Minako Momodaira, Mother (ep16), Orchestra Member A (ep3), Party Guest (ep15), Rena Ishikawa, Saya's Friend (ep12), Song Teacher, Wife (ep20), Young Woman A (ep9), Yurie Segawa (ep21)
Paradise Kiss - Additional Voices
Rave Master - Reina
Rozen Maiden: Träumend - Barasuishou
Sailor Moon - Balm (ep2; 2014 Viz Dub), Ikuko Tsukino (2014 Viz Dub), Pet Shop Owner (ep5; 2014 Viz Dub)
Sailor Moon Crystal - Ikuko Tsukino (ep1)
Sailor Moon R - Ikuko Tsukino (2015 Viz Dub)
Sailor Moon S - Kaolinite (2015 Viz Dub)
The Melody of Oblivion - Announcer (ep22), Girl C (ep23)
The Prince of Tennis - Takako (ep49)
Tiger & Bunny - Agnes Joubert, Jane (ep14), Samantha Taylor
Tokkō - Kureha Suzuka
Ultra Maniac - Doll (ep10)
Anime Specials
Movies
OVA
TV Series
TV Specials
Video Games
Web Animation
Other Voice Work
Trivia
Number of VA titles on this wiki: (181)
Ad blocker interference detected!
Wikia is a free-to-use site that makes money from advertising. We have a modified experience for viewers using ad blockers

Wikia is not accessible if you've made further modifications. Remove the custom ad blocker rule(s) and the page will load as expected.