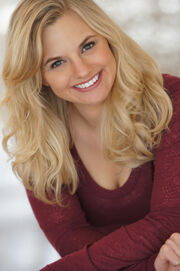 Tia Lynn Ballard
(born May 11, 1986 in Paris, Texas) is an American actress, artist, comedian, writer and voice actress for FUNimation Entertainment and Seraphim Digital.
She also goes by the names: Abigail Hartman and Stephica Nishalencia.
Filmography
Anime
A Certain Magical Index - Waitress (ep20), Additional Voices
A Certain Scientific Railgun - Maaya Awatsuki, Additional Voices
A Certain Scientific Railgun S - Maaya Awatsuki, Additional Voices
ACCA: 13-Territory Inspection Dept. - Schnee
Aesthetica of a Rogue Hero - Additional Voices
All Out!! - Yumi
And you thought there is never a girl online? - Nanako Akiyama
Aquarion Evol - Sazanka Bianca
Aquarion Logos - Shoko Iwagami
Aria the Scarlet Ammo - Additional Voices
Assassination Classroom: Second Season - Mori (ep13)
Attack on Titan - Hanna
Attack on Titan: Junior High - Hanna
B Gata H Kei: Yamada's First Time - Princess Anne (ep9), Additional Voices
Baka and Test: Summon the Beasts - Miho Sato, Additional Voices
Bamboo Blade - Kawaguchi (ep13), Schoolgirl B (ep19), Additional Voices
Ben-To - Ume Shiraume
Big Windup! - Additional Voices
Birdy the Mighty: Decode - Kanae Kitamura
Birdy the Mighty Decode:02 - Kanae Kitamura
Black Butler: Book of Circus - Beast
Blassreiter - Annika, Additional Voices
Blood Blockade Battlefront - Aligula
Blood-C - Hitomi (ep9), Additional Voices
C - Control: The Money of Soul and Possibility - Boy 8A (ep8)
Casshern Sins - Hoti (ep17)
Cat Planet Cuties - Eris
Chaos Dragon - Koukaku
Chaos;Child - Yui Tachibana
Chaos;HEAd - Young Takumi (ep3), Additional Voices
Chrome Shelled Regios - Saya, Zuelini
Corpse Princess - Nozomi Kasuga
Cøde:Breaker - Additional Voices
D-Frag! - Takao
D.Gray-Man - Darna (ep37), Katia (ep43)
Dagashi Kashi - Additional Voices
Daimidaler: Prince V.S. Penguin Empire - Little Girl (Ep4)
Dance in the Vampire Bund - Nero
Danganronpa 3: The End of Hope's Peak High School - Future Arc - Daisaku Bandai
Darker than Black: Gemini of the Meteor - Yoko Sawasaki
Date A Live - Yoshino/Hermit
Date A Live II - Yoshino/Hermit
Deadman Wonderland - Hibana Daida, Additional Voices
Death Parade - Chisato Miyazaki (ep3)
The Devil Is a Part-Timer! - Chiho Sasaki
Dimension W - Mana Ayukawa (ep6)
Divine Gate - Dorothy
Dragon Ball Super - Marron, Saleswoman (ep1)
Dragon Ball Z Kai - Additional Voices
Dragonar Academy - Additional Voices
Dragonaut -The Resonance- - Additional Voices
Eden of the East - Additional Voices
Fairy Tail - Happy
Free! - Chigusa Hanamura
Free! Eternal Summer - Chigusa Hanamura
Freezing - Ticy Phenyl, Elizabeth Mably
Freezing: Vibration - Elizabeth Mably, Ticy Phenyl
Fullmetal Alchemist: Brotherhood - Shao May, Additional Voices
The Future Diary - 12th Pink (ep5), Additional Voices
Fuuka - Tomomi
Gangsta. - Arthur (ep10)
Garo: The Animation - Garm, Additional Voices
GARO: The Crimson Moon - Inari A
Good Luck Girl! - Rika Tsuwabaki, Additional Voices
Gonna be the Twin-Tail!! - Mega Neptune Mk. II
Guilty Crown - Hare Menjō
Hand Shakers - Tazuna's Mother
Heaven's Lost Property - Eve (ep6), Girl Changing Clothes (ep14), Additional Voices
Heaven's Lost Property: Forte - Umami, Additional Voices
Heavy Object - Myonri
Hero Tales - Linlin (ep4)
The Heroic Legend of Arslan - Additional Voices
High School DxD: BorN - Serafall Leviathan
High School DxD: New - Serafall Leviathan, Additional Voices
Hyperdimension Neptunia - Peashy
Initial D: Fourth Stage - Additional Voices
Is This a Zombie? - Fantasy EU (ep2)
Is This a Zombie? of the Dead - Fantasy EU
Izetta: The Last Witch - Elvira Friedman
Kamisama Kiss - Nanami Momozono, Yukiji
Kamisama Kiss 2 - Nanami Momozono
Kantai Collection - Akagi
Karneval - Eleska
Kenichi: The Mightiest Disciple - Walkyrie Member B, Additional Voices
Kiss Him, Not Me - Additional Voices
Last Exile: Fam, The Silver Wing - Alvis E. Hamilton
The Legend of the Legendary Heroes - Lemile Knolles (ep13), Telura, Additional Voices
Level E - Additional Voices
Linebarrels of Iron - Rachel Calvin
Little Busters! - Komari Kamikita
Log Horizon - Nureha
Log Horizon 2 - Nureha
Lord Marksman and Vanadis - Titta
Maken-Ki! Battling Venus - Inaho Kushiya
Maken Ki! Two - Inaho Kushiya
Masamune-kun's Revenge - Kaneko Sonaka
Monster Hunter Stories: Ride On - Avinia
My Love Story!! - Rinko Yamato
Nabari no Ou - Additional Voices
Ninja Slayer from Animation - Blue Oiran, Machi (ep3), Additional Voices
No-Rin - Natsumi "Becky" Bekki
Nobunagun - Young Iyo (ep10)
Noragami - Moyu, Additional Voices
Noragami: Aragoto - Moyu
Oh! Edo Rocket - O-Nui
Ōkami-san and her Seven Companions - Ami Jizou
One Piece - Porche, Additional Voices
Orange - Rio Ueda
Panty & Stocking with Garterbelt - Naked Girl with Dental Braces (ep4B), Additional Voices
Phantom: Requiem for the Phantom - Additional Voices
Princess Jellyfish - Additional Voices
Prison School - Mari Kurihara
Psycho-Pass 2 - Additional Voices
Rage of Bahamut: Genesis - Amira
RIN ~Daughters of Mnemosyne~ - Ruon Kamiyama (ep4), Additional Voices
Rideback - Rin Ogata
Robotics;Notes - Taro, Young Akiho Senomiya
The Rolling Girls - Sumire
Rosario + Vampire - Mizore Shirayuki
Rosario + Vampire Capu2 - Mizore Shirayuki
Sands of Destruction - Maya (ep7), Additional Voices
Sankarea: Undying Love - Rea Sanka
Saga of Tanya the Evil - Mary
Sekirei - Kusano
Sekirei: Pure Engagement - Kusano
selector infected WIXOSS - Hitoe Uemura
Seraph of the End - Taichi Hyakuya
Sgt. Frog - Melody Honey, Rei (ep61), Additional Voices
Shakugan no Shana II (Second) - Kimiko Nakamura, Marianne (ep1), Rinne (ep8)
Shakugan no Shana III (Final) - Domino, Chalciuhtlicue, Kimiko Nakamura (ep1), Additional Voices
Shangri-La - Tomoka Yamazaki
Shiki - Megumi Shimizu
Shin-chan - Additional Voices
Shōnen Maid - Additional Voices
Show By Rock!! - Kittsun
Show By Rock!! Season 2 - Kittsun (ep4)
Sky Wizards Academy - Misora Whitale
Space☆Dandy - Additional Voices
Spice and Wolf II - Additional Voices
Strike Witches - Amaki Suwa (ep12)
Strike Witches 2 - Amaki Suwa
Tokyo ESP - Additional Voices
Tokyo Ghoul - Additional Voices
Tokyo Ghoul √A - Roma Hoito
Tokyo Ravens - Hokuto
Toriko - Additional Voices
The Tower of Druaga: The Aegis of Uruk - Enre, Additional Voices
Trickster - Additional Voices
Ultimate Otaku Teacher - Kotaro Araki
Unbreakable Machine-Doll - Firefly (ep10), Nadeshiko Akabane
World Break: Aria of Curse for a Holy Swordsman - Maya Shimon
Yona of the Dawn - Additional Voices
Yuri!!! on Ice - Sara Crispino
Anime Shorts
Freezing - Elizabeth Mably (ep2), Additional Voices
Movies
OVA
Video Games
Web Anime
Trivia
Number of VA titles on this wiki: (185)
Ad blocker interference detected!
Wikia is a free-to-use site that makes money from advertising. We have a modified experience for viewers using ad blockers

Wikia is not accessible if you've made further modifications. Remove the custom ad blocker rule(s) and the page will load as expected.