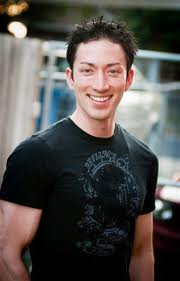 Todd Michael Haberkorn
(born August 16, 1982 in Arlington, Texas) is an actor, voice actor, ADR director and script writer for
Funimation Entertainment
 and Bang Zoom Entertainment.
He's known for voicing Allen Walker in D.Gray-Man, Hikaru Hitachiin in Ouran High School Host Club, Italy in Hetalia: Axis Powers, Keroro in Sgt. Frog, Ling Yao in Fullmetal Alchemist: Brotherhood, and Natsu Dragneel in Fairy Tail.
He also goes under the name: Todd Stone.
Filmography
Animation
Anime
A Certain Scientific Railgun - Additional Voices
Accel World - Crimson Knightbolt
Aesthetica of a Rogue Hero - Phil Barnett/Zahhak
Ajin: Demi-Human - Yu Tosaki
Ajin: Demi-Human Season 2 - Yu Tosaki
Aldnoah.Zero - Trillram
Appleseed XIII - Kagaya (ep8), Additional Voices
Aquarion - Jun Lee
Aquarion Evol - Jin Muso
Aquarion Logos - Akira Kaibuki
Aria the Scarlet Ammo - Kinji Toyama
Aria the Scarlet Ammo AA - Kinji Toyama
Attack on Titan - Marlo
B-Daman Crossfire - Alba Cocodoro
BECK: Mongolian Chop Squad - Senshou (ep25)
B Gata H Kei: Yamada's First Time - Cherries (ep1), Additional Voices
Baccano! - Firo Prochainezo
Baka and Test: Summon the Beasts - Kyouji Nemoto
Baka and Test: Summon the Beasts 2 - Kyouji Nemoto
Big Windup! - Yūichirō Tajima
Birdy the Mighty: Decode - Satyajit Shyamalan
Birdy the Mighty Decode:02 - Satyajit Shyamalan
Black Blood Brothers - Zaza
Black Butler - Aleister Chamber, Azzurro's Henchman (ep2), Paperboy (ep3)
Black Butler II - Aleister Chamber
Black Cat - Flitt Morris
Blassreiter - Joseph Jobson, Additional Voices
Bleach - Masayoshi (ep315), Moe Shishigawara
Blood-C - Dog
Blood Lad - Roy (ep11), Territory Crasher (ep1), Tobi
Brothers Conflict - 'Hikaru Asahina'
C - Control: The Money of Soul and Possibility - Kimimaro Yoga
Chaos;Child - Takumi Nishijo (ep1)
Chaos;HEAd - Takumi Nishijo
Chrome Shelled Regios - Layfon Alseif
Claymore - Raki
Corpse Princess - Ena
Cøde:Breaker - Toki Fujiwara
D.Gray-Man - Allen Walker, Millennium Earl (eps29-36)
D.Gray-Man: Hallow - Allen Walker
Dagashi Kashi - Kokonotsu Shikada
Daimidaler: Prince V.S. Penguin Empire - Shouma Ameku
Dance in the Vampire Bund - Rozenmann
Danganronpa 3: The End of Hope's Peak High School - Despair Arc - Teruteru Hanamura
Darker than Black - Yutaka Kono
Death Parade - Shimada
Dimension W - Additional Voices
Dragon Ball Z Kai - Android#19
Dragonaut -The Resonance- - Kazuki Tachibana
Eden of the East - Jintaro Tsuji
Eureka Seven Ao - Truth
Fairy Tail - Natsu Dragneel, Natsu Dragion
Fractale - Colin
Free! - Haruka Nanase
Free! Eternal Summer - Haruka Nanase
Fullmetal Alchemist: Brotherhood - Ling Yao
Fuuka - Yamato Akitsuki
Ga-Rei-Zero - Kensuke Nimura (ep12)
Ghost Hunt - Kazuya "Naru" Shibuya
Glass Fleet - Magnus (ep17), Nobility Adjutant (ep1), Young Cleo, Additional Voices
Glitter Force - Pop
Good Luck Girl! - Momo'o Inugami
Gosick - Wong Kai (ep13)
Guilty Crown - Kurosu Ōma (ep20), Additional Voices
Heaven's Lost Property - Additional Voices
Heaven's Lost Property: Forte - Moota (ep9), Shun (ep4), Stevie (ep6)
Hell Girl - Ichimokuren
Ikki Tousen: Great Guardians - En'in (ep2), Additional Voices
Ikki Tousen: Xtreme Xecutor - Additional Voices
Initial D: First Stage - Keisuke Takahashi
Initial D: Fourth Stage - Keisuke Takahashi, Additional Voices
Initial D: Second Stage - Keisuke Takahashi
Is This a Zombie? - Shimomura
Is This a Zombie? of the Dead - Shimomura
JoJo's Bizarre Adventure - Bully A (ep1)
K - Izumo Kusanagi
Kaze no Stigma - Tatsuya Serizawa
Kenichi: The Mightiest Disciple - Haruo Niijima, Additional Voices
Kill la Kill - Shirō Iori, Driver (ep4), Ryōsuke Todoroki (ep8), Tarō Genbu (ep14)
Knights of Sidonia - Norio Kunato, Pilot (ep12)
Level E - Ejiri
Linebarrels of Iron - Hisataka Kato
Magi: The Labyrinth of Magic - Judar, Additional Voices
Maken-Ki! Battling Venus - Gouken Yamato
My Bride is a Mermaid - Nagasumi Michishio
Naruto: Shippūden - Animal Path's Former Body (ep127), Bandō (ep224), Bird-Masked ANBU (ep160), Classmate (ep246), Dodai, Evil Ninja from Jiraiya's Novel (ep174), Junior Ninja (ep161), Katazu (ep181), Korobi (ep182), Kurenai's Father (ep249), Leaf Ninja (eps172-173), Man (ep170), Mozuku (ep160), Parrot (ep171), Suika (ep236), Young Might Guy, Yūdachi, Additional Voices
Naruto spin off! Rock Lee & his ninja pals - Bankuken Shop Clerk (ep1), Henchman (ep3), Hidden Leaf Villager (ep1), Hidden Leaf Villager (ep4), Jiraiya (ep46), Rogue Ninja (ep2), Suigetsu Hōzuki (ep47)
No-Rin - Roriita (ep8)
Nura: Rise of the Yokai Clan - Kubinashi, Additional Voices
Nura: Rise of the Yokai Clan: Demon Capital - Kubinashi
Ōkami-san and her Seven Companions - Taro Urashima
One Piece - Koza, Nero, Siam, Additional Voices
One Punch Man - Charanko (ep10), Drive Knight (ep12), Pudgy Guy (ep9), Surfer Guy (ep8)
Ouran High School Host Club - Hikaru Hitachīn
Panty & Stocking with Garterbelt - Male Student C (ep6), Plumber (ep1A), Yokoyama (ep5B)
Peach Girl - Shig
Phantom: Requiem for the Phantom - Atsushi Motegi, Additional Voices
Prince of Stride: Alternative - Tomoe Yagami
Psycho-Pass 2 - Koichi Kuwashima (ep9)
RIN ~Daughters of Mnemosyne~ - APOS
Ragnarok The Animation - Lead Cavalier (ep1)
Robotics;Notes - Additional Voices
Romeo x Juliet - Abram
Rosario + Vampire - Tsukune Aono
Rosario + Vampire Capu2 - Tsukune Aono
Sailor Moon - Jadeite (2014 Viz Dub)
Sailor Moon Crystal - Jadeite
Samurai Warriors - Takatora Todo
Sands of Destruction - Kyrie Ilnis
Sasami: Magical Girls Club - Toshihiko "Monta" Saruta
Save Me! Lollipop - Yakumo
School Rumble - Kentarō Nara, Additional Voices
School Rumble: 2nd Semester - Kentarō Nara, Pyotr
Sekirei - Hayato Mikogami, Additional Voices
Sekirei: Pure Engagement - Hayato Mikogami
Sgt. Frog - Keroro, Kappa (ep46)
Shakugan no Shana II (Second) - Khamsin (ep10)
Shakugan no Shana III (Final) - Khamsin
Shangri-La - Soichiro Hata
Shigurui: Death Frenzy - Ootsubo
Shiki - Masao Murasako
Shin-chan - Additional Voices
Shōnen Maid - Keiichiro Shinozaki
Show By Rock!! Season 2 - Deyan (ep7)
Shuffle! - Itsuki Midoriba, Male Student A (ep22), Additional Voices
Soul Eater - Death the Kid
Soul Eater NOT! - Death the Kid
Space☆Dandy - Carpaccio
Str.A.In: Strategic Armored Infantry - Carrisford "Carris" Radofrics
Strike Witches - Meyer (ep8), Additional Voices
Strike Witches 2 - Additional Voices
Suzuka - Yamato Akitsuki
Sword Art Online - Nobuyuki Sugō/Oberon
Tenkai Knights - Ceylan Jones
The Future Diary - Aru Akise
The Legend of the Legendary Heroes - Toale Nelphi, Additional Voices
The Rolling Girls - Manager (ep4)
Tokyo Ghoul - Ayato Kirishima
Tokyo Ghoul √A - Ayato Kirishima, Additional Voices
Tokyo Ravens - Yashamaru
Toriko - Takimaru
Witchblade - Additional Voices
xxxHOLiC - Kimihiro Watanuki
Yona of the Dawn - Additional Voices
Anime Shorts
Anime Specials
Movies
OVA
TV Specials
Video Games
Web Animation
Web Anime
Trivia
No. of VA Titles on this wiki: (233)
Ad blocker interference detected!
Wikia is a free-to-use site that makes money from advertising. We have a modified experience for viewers using ad blockers

Wikia is not accessible if you've made further modifications. Remove the custom ad blocker rule(s) and the page will load as expected.