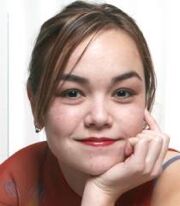 Trina Nishimura
is an American voice actress who works for FUNimation Entertainment. At age 3, her family moved from Sacramento, California to Amarillo, Texas. She started doing plays and performing at the community theater at age 9, and continued through high school. She got her Bachelor of Arts in Radio in University of North Texas at Denton.
She's known for voicing Akira Takano in School Rumble, Lan Fan in Fullmetal Alchemist: Brotherhood, Mari Illustrious Makinami in Evangelion: 2.0 You Can (Not) Advance, Namiko Onami in Desert Punk, her first voice role and Sherry Blendi in Fairy Tail.
She also goes by the names: Anita Neukar and Jennifer McDaniel.
Filmography
Anime
A Certain Scientific Railgun - Mii Konori
A Certain Scientific Railgun S - Mii Konori
Absolute Duo - Rito Tsukimi
And you thought there is never a girl online? - Ako Tamaki/Ako
Aquarion - Fairy, Additional Voices
Aria the Scarlet Ammo - Additional Voices
Assassination Classroom - Additional Voices
Attack on Titan - Mikasa Ackerman
Attack on Titan: Junior High - Mikasa Ackerman
BECK: Mongolian Chop Squad - Melanie, Additional Voices
B Gata H Kei: Yamada's First Time - Aoi Katase
Baccano! - Rachel
Baka and Test: Summon the Beasts - Aiko Kudou
Baka and Test: Summon the Beasts 2 - Aiko Kudou
Bamboo Blade - Karen Nishiyama, Additional Voices
Ben-To - Sen Yarizui
Birdy the Mighty: Decode - Capella Titis
Birdy the Mighty Decode:02 - Capella Titis
Black Blood Brothers - Additional Voices
Black Butler - Ranmao
Black Butler II - Ranmao, Additional Voices
Black Cat - Tanya, Additional Voices
Blassreiter - Mei-Fong Liu
Blood Blockade Battlefront - Chain Sumeragi
Casshern Sins - Luna
Cat Planet Cuties - Additional Voices
Chaos;Child - Female Chatter 1A (ep1)
Chaos;HEAd - Additional Voices
Chrome Shelled Regios - Shante Laite
Claymore - Flora, Natalie (ep21), Sophia, Additional Voices
Corpse Princess - Additional Voices
Cøde:Breaker - Tsubomi (ep12), Additional Voices
D.Gray-Man - Tellima (ep38)
Dance in the Vampire Bund - Nelly
Darker than Black - Irene
Darker than Black: Gemini of the Meteor - Additional Voices
Date A Live II - Ellen Mira Mathers
Deadman Wonderland - Ganta Igarashi (Child; ep7), Additional Voices
Death Parade - Machiko
Desert Punk - Namiko Onami
Dimension W - Miyabi Azumaya
Dragonaut -The Resonance- - Ryoko Kakei
El Cazador de la Bruja - Nadie
Eureka Seven Ao - Lerato Food
Fairy Tail - Sherry Blendi, Sonny (ep203), Additional Voices
Fractale - Additional Voices
Freezing - Tris McKenzie
Fullmetal Alchemist: Brotherhood - Lan Fan
Ga-Rei-Zero - Kiri Nikaidō
Ghost Hunt - Ghost, Kiyomi Itō (ep7), Additional Voices
Guilty Crown - Additional Voices
Gunslinger Girl: Il Teatrino - Additional Voices
Haganai - Eiko (ep10), Horiguchi (ep11), Raysis, Taka (ep6)
Haganai NEXT - Raysis
Heaven's Lost Property - Sohara Mitsuki
Heaven's Lost Property: Forte - Sohara Mitsuki
Hell Girl - Schoolgirl B (ep2), Yuka Kasuga (ep9), Additional Voices
High School DxD - Isabela
Is This a Zombie? - Fantasy EU (ep3)
Is This a Zombie? of the Dead - Fantasy EU
Jyu-Oh-Sei - Tiz
Kamisama Kiss - Additional Voices
Kaze no Stigma - Madoka (ep17), Additional Voices
Kenichi: The Mightiest Disciple - Shigure Kōsaka
Kodocha - Additional Voices
Linebarrels of Iron - Saki Yajima, Additional Voices
Maken-Ki! Battling Venus - Chacha Akaza
Maria the Virgin Witch - Edwina
Mikagura School Suite - Asuhi Imizu, Azumi Sagara
Monster Hunter Stories: Ride On - Navirou
My Bride is a Mermaid - Akeno Shiranui
My Hero Academia - Kyōka Jirō
Nabari no Ou - Juji Minami
Negima! Magister Negi Magi - Lingshen Chao/Student No.19
Negima!? Magister Negi Magi - Lingshen Chao/Student No.19, Motsu
Ninja Slayer from Animation - Nancy Lee
Noragami: Aragoto - Tomoko (ep2)
Oh! Edo Rocket - O-Riku, Additional Voices
Ōkami-san and her Seven Companions - Satsuki
One Piece - Child A (ep180), Gyoro, Lily, Rasa, Shelly, Additional Voices
Ouran High School Host Club - Kozue Kitamika
Peach Girl - Emi, Girl 2 (ep25), Additional Voices
Phantom: Requiem for the Phantom - Additional Voices
Psycho-Pass - Hiroko Fujii (ep14), Additional Voices
Rage of Bahamut: Genesis - Uriel, Additional Voices
Ragnarok The Animation - Additional Voices
Rideback - Suzuri Uchida
Robotics;Notes - Additional Voices
Romeo x Juliet - Petruchio's Sister (ep24), Additional Voices
Rosario + Vampire - Additional Voices
Rosario + Vampire Capu2 - Additional Voices
Rumbling Hearts - Additional Voices
Sands of Destruction - Lia Dragonell
Sasami: Magical Girls Club - Ayane, Girl B (ep6), Additional Voices
Save Me! Lollipop - Salia (ep5)
School Rumble - Akira Takano, Yurippe (ep21)
School Rumble: 2nd Semester - Akira Takano
Sekirei - Benitsubasa
Sekirei: Pure Engagement - Benitsubasa
Sengoku Basara: Samurai Kings - Additional Voices
Senran Kagura - Yomi
Seraph of the End - Mito Jujo
Sgt. Frog - Female Customer (ep21), Ghost Girl, Additional Voices
Shakugan no Shana III (Final) - Rebecca Reed
Shangri-La - Klaris Lutz, Additional Voices
Shiki - Aoi Mutou
Shin-chan - Kayla (ep54), Mary, Additional Voices
Shuffle! - Additional Voices
SoltyRei - Nana (ep25)
Soul Eater - Arisa, Mizune
Space☆Dandy - Mamitas (ep3)
Steins;Gate - Kurisu Makise
Str.A.In: Strategic Armored Infantry - Isabella
Strike Witches - Francesca Licchini
Strike Witches 2 - Francesca Licchini
Suzuka - Sister (ep15), Additional Voices
The Rolling Girls - Yukari Otonashi
The Sacred Blacksmith - Margot
Tokyo ESP - Rin Lianjie
Trinity Blood - Huck (ep7)
Tsubasa: RESERVoir CHRoNiCLE - Chii (ep32), Karen, Additional Voices
Ultimate Otaku Teacher - Yoko, Additional Voices
Wanna Be the Strongest in the World! - Additional Voices
Witchblade - Shiori Tsuzuki, Additional Voices
World Break: Aria of Curse for a Holy Swordsman - Tokiko Kanzaki
xxxHOLiC - Girl (ep1), Maid (ep4), Mie (ep13), Onlooker (ep5), Additional Voices
Yona of the Dawn - Additional Voices
Yuri!!! on Ice - Kenjirou Minami
Anime Shorts
Live Action Movies - Dubbing
Movies
OVA
Video Games
Trivia
Number of VA titles on this wiki: (164)
Ad blocker interference detected!
Wikia is a free-to-use site that makes money from advertising. We have a modified experience for viewers using ad blockers

Wikia is not accessible if you've made further modifications. Remove the custom ad blocker rule(s) and the page will load as expected.